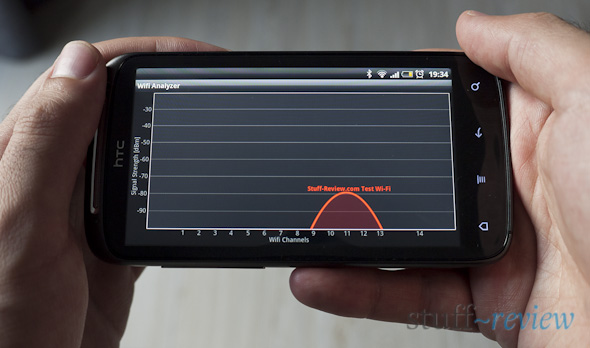 We've been reviewing the new HTC Sensation smartphone and spending quite some time with it over the last few weeks, and although it's a fantastic device, we've run across a rather frustrating hardware issue.
While holding the phone in a specific, though common manner, Wi-Fi signal strength drops or can be lost completely. Said 'death grip' happens when you touch or cover the top side of the phone (close to the 8MP camera); i.e. where the Wi-Fi antenna is located.

It first occurred to us while trying to watch YouTube videos on the Sensation in landscape mode and holding the phone with both hands for comfort. The video would inexplicably stop loading, Wi-Fi connectivity would be lost and data would switch over to 3G/EDGE. Following that, we ran some tests and could replicate the signal drop/loss every time, as demonstrated in the videos below.
First video, showing signal attenuation in an area with strong Wi-Fi signal strength:

Second video, showing attenuation and loss of signal in an area with average Wi-Fi signal strength:

Note that our device features a two pin connector for the Wi-Fi antenna, while some users with devices having a three pin connector are reporting no signal loss–though we cannot confirm this. Also note that, enabling 'Best Wi-Fi performance' (boosting Wi-Fi performance at the expense of battery) in Wi-Fi options on the phone had no tangible effect.
HTC has made an official statement trying to dispel concerns:
Every phone experiences a slight variation in signal strength when the antenna is covered in its entirety by a palm and/or fingers. However, under normal circumstances this does not affect the performance of the phone.
While we do take to heart that most devices suffer some signal attenuation under certain conditions, the HTC Sensation's death grip issue does affect the normal operation of the phone. For example we couldn't browse the internet in landscape in areas with already poor Wi-Fi signal, e.g. at a café or, as explained above, view YouTube videos even in areas with otherwise ok signal. We should note here however, that this issue is definitely not a deal breaker but rather an annoyance and should not deter people looking to buy the HTC Sensation. Furthermore, although ours was a production unit, it could affect, or not, different users in varying degrees.
We do hope that HTC will eventually offer a solution to those affected as it diminishes an otherwise excellent experience. Though this is apparently a hardware issue and would otherwise be difficult to fix, the antennas reside in the removable back cover, potentially HTC could offer a redesigned back cover replacement. Acceptance though is usually the last step, after denial and anger; we just hope it doesn't take too long. For now you can try your luck with a hard cover for the Sensation.
Update: We've re-tested the 'death grip' on the HTC Sensation to show the full extend of the issue, read part 2 here.