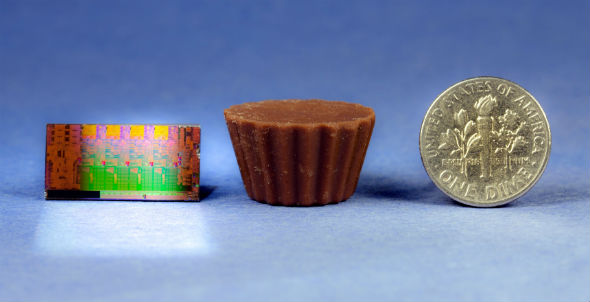 Intel has added to its Sandy Bridge (2nd generation Core i7 and i5) processor line-up three new ultra-low voltage (ULV) processors with a thermal envelope of just 17 watts–that is, power efficient processors to help battery life and keep heat down.
The new 'yummy' crop of tiny processors should be heading to ultraslim laptops; like the MacBook Air line, which is up for a refresh. In fact the 11.6-inch MacBook Air's small frame can manage around 17 watts of heat dissipation.

The three new dual-core processors are faster than the previous crop of ULV processors and can 'overclock' (turbo) to higher speeds in order to boost performance when needed. The three processors are:
Core i7-2677M: 2 cores, 1.8 GHz (max turbo 2.9GHz), 4MB cache, 17 watts, $317
Core i7-2637M: 2 cores, 1.7GHz (max turbo 2.8GHz), 4MB cache, 17 watts, $289
Core i5-2557M: 2 cores, 1.7GHz (max turbo 2.7GHz), 3MB cache, 17 watts, $250
Intel has been putting a lot of attention into the rapidly growing ultraslim/ultraportable laptop category, which it dub's as "ultrabooks". Although this category of laptops had been thought as underpowered, advances in microprocessor technology have helped to speed up things substantially, with the latest crop of road-warrior friendly laptops being able to handle pretty much anything. We couldn't be happier!
[
Intel (i7-2677M)
,
(i7-2637M)
,
(i5-2557M)
]