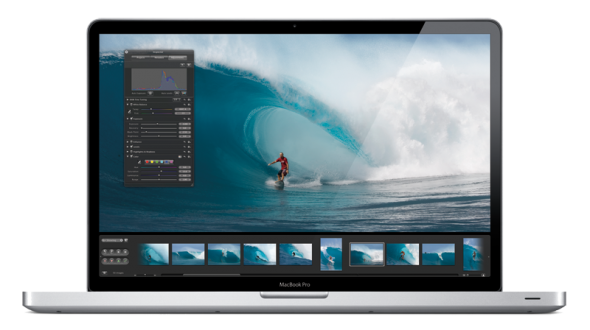 We've been hearing rumors about Apple's upcoming refresh of its MacBook Pro line for a while now. It's almost certain that they will feature Intel's latest 22nm Ivy Bridge processors, but two other long-standing rumors have been that they will have a new thinner Air-like design and high resolution retina displays.
Now according to Bloomberg sources the rumors have been confirmed. Apple is said to be unveiling the new MacBook Pro lineup at the WWDC starting on June 11. The MacBook Pros will have a slim design, retina displays and also feature SSD drives, though they could be coupled with standard magnetic hard drives for larger storage capacity.

Here is what Bloomberg is saying:
Apple Inc. (AAPL) is preparing a new lineup of thinner MacBook laptops running on more powerful chips made by Intel Corp. (INTC), people with knowledge of the plans said.

The MacBook Pro machines, to be unveiled at Apple's annual developers conference starting June 11, also will feature high- definition screens like those on the iPhone and iPad, as well as flash memory to cut startup times and extend battery life, said the people, who asked not to be identified because the plans haven't been made public.
As this will be a developer conference, we're also sure to see more of OS X Mountain Lion and iOS 6.
The new MacBook Pros are also expected to feature NVIDIA discrete graphics, while Apple could also refresh its MacBook Air and iMac lineup with Ivy Bridge processors.