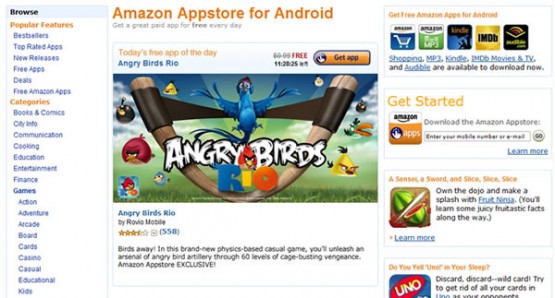 Amazon's Appstore for Android is now live and open for business. Angry Birds Rio is joining Amazon for the launch and it's free to download for the rest of today (normally $0.99). It will not be the only free paid app on offer, Amazon will be featuring a different paid app each day for free which we are sure will be a good incentive for people to download and use the appstore.

In addition Amazon will allow you to test drive applications on a computer before you purchase them; Amazon states, "You control the app with your mouse and experience it like you would on your phone". Finally Amazon will be testing applications before including them in its appstore to make sure they behave as they state and that they are free from mall-ware, something which the Android Market has been criticized for.
Amazon is betting on its superior sorting and recommendation engines in helping you find new and useful apps and with all the additional perks we are sure it will give the Android Market a run for its money.