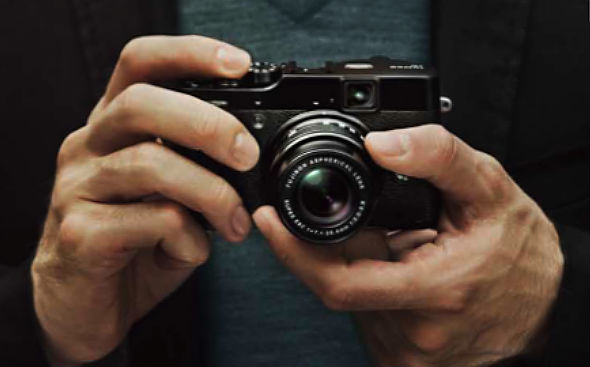 Fujifilm has just announced the FinePix X10 (previously rumored as the X50), a new retro looking point-and-shoot camera, which can confidently claim to be the younger brother to the X100. The X10 goes directly in the category of high performing compact zoom cameras, together with the Olympus XZ-1, Panasonic LX5, Nikon P7100 and Canon S95. The X10 will feature the largest sensor size for a point-and-shoot, 2/3-inch 12-megapixel EXR-CMOS sensor offering sensitivity up to ISO 12,800 — the other P&S' above have sensor sizes of around 1/1.8-inch. Fuji has paired this with a 28-122mm (4x zoom) f/2-2.8 Fujinon lens featuring a newly developed optical stabilization mechanism.

The X10 will manage 7fps continuous shooting at full resolution, 1080p/30fps video, offer RAW and an electronic horizon leveling gauge. Similar to the X100 the X10 will feature a magnesium alloy body and get this, it will also feature an optical viewfinder. Fuji has donned it with a 2.8-inch 460k dot screen, 49-point contrast AF system and a 0.8 second power-up delay. The X10 will be able to shoot 360 panoramic photos and film simulation modes such as Velvia, Provia and Astia. The camera will measure 117.0x 69.6 x 56.8 mm (4.6 x 2.7 x 2.2 in) and weight approximately 350g (12.3 oz) (including battery and memory card).
We're certainly by now used to Fujifilm pushing the envelope and redefining what we expect from small cameras in technical terms, we just have to wait until October or November when this camera is said to be released.
X10 Key Features:
• 4x manual optical zoom featuring Fujifilm's new Intelligent Digital Zoom technology that doubles telephoto capabilities and provides up to 8x zoom
• Fast power start-up; the X10 is fully ready to shoot in approximately 0.8 seconds using the on/off power switch built into the lens ring (must be in Quick Start mode)
• High-contrast and wide viewing-angle 2.8″ 460K dot high contrast LCD screen that provides excellent viewing even outdoors and in bright sunlight
• Diverse manual shooting modes that can be selected according to scene type (Program / Aperture Priority / Shutter Speed Priority / Manual)
• Four diverse auto bracketing functions for exposure, ISO sensitivity, dynamic range and film simulation
• RAW shooting and in-camera RAW processing (SilkyPix RAW conversion software supplied in-box)
• Best-in-class 1080p Full HD movie recording capabilities
• Film Simulation Modes (eight setting are available, including Velvia / PROVIA / ASTIA)
• Manual pop-up flash with a range of 7 meters (approximately 23 feet)
• Electronic horizon leveling gauge to ensure that the camera is being held level, and histogram display to check image gradation
• Motion Panorama 360° for seamless 360-degree panoramic shooting
[
Fujifilm FinePix X10 official page
,
Sensor dimensions
]