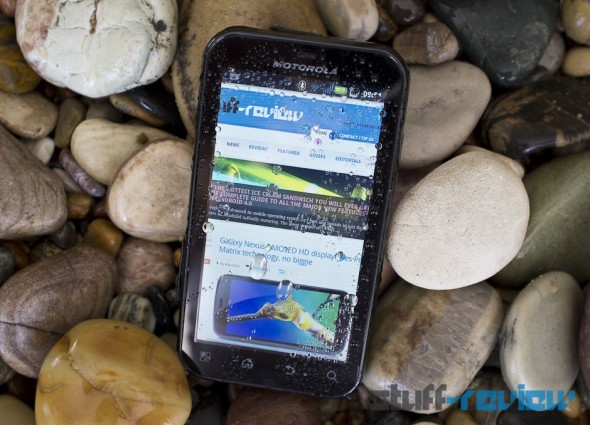 Rugged phones had been monstrous beasts that could do nothing more than send and receive calls and messages. Motorola pretty much created the rugged smartphone space and last year introduced the Motorola Defy. The Defy looked very normal — which is a good thing — with the added benefit that it was 'life-proof'. A year later, Motorola released the Defy+ (Plus), which is for all intents and purposes the same as the original Defy, with two key improvements: a faster 1GHz processor and a more recent version of Android, 2.3 Gingerbread.
The Defy+ is a mid-range 3.7-inch Android smartphone, and everything on it shouts average. But for its class and price it's a really well executed device. It currently retails in Europe for around €240 or £240 ($360) sim-free, while it hasn't yet reached American shores. The original Defy was available on T-Mobile for $99 on contract.
Motorola also makes military grade rugged phones, like the Admiral; the Defy+, although not military grade, is water, dust and scratch resistant, and much more stylish. Note it's water resistant, but not waterproof. In a sense it's a standard Android phone that has been inoculated against the weather and active and demanding lifestyles.

Design
The design hasn't changed from the original Defy. As far as rugged phones go it's a looker, avoiding gaudy overtones, although its spartan looks might not be to everyone's taste.
The Defy+ is a candy-bar shaped device, the scratch proof Gorilla Glass 3.7-inch display taking up the entire front, with the standard row of Android buttons at the bottom. An LED notification light rests below the glass front, on the top-left.
The sides are held together by seven visible Torx screws, a testament to its rugged DNA. The micro USB and 3.5mm headphone ports are covered by flaps, to prevent water getting in. The back is made of a softer, more rubbery kind of plastic and closes in a very unique way to prevent water from getting into the battery compartment.
We've found the only buttons, the power and volume rocker, a little harder to press but that's probably because of the water resistance.
The Defy+ measures 107 x 59 x 13.4mm (4.2 x 2.3 x 0.53 inches) and weighs 118g (4.16oz). It's slightly thicker than other 3.7-inch phones like the HTC Desire S, but it's actually shorter. In the hand it feels surprisingly light and small.
Hardware
The Defy+ runs on a 1GHz single-core TI OMAP3620 processor (the main upgrade over the original Defy's 800MHz TI OMAP3610 core). Otherwise, everything else has remained the same in terms of hardware. There's 512MB of RAM and 2GB of built-in storage. When we turned on the device, we had 1.18GB of free on-board storage, enough to install a host of apps. Motorola also includes a pre-installed 2GB micoSD card, but if you want to keep a lot of music, photos or videos on the device you would want to get a larger card.
Display
We've already mentioned the Gorilla Glass screen that can take some abuse, so that's one less thing to worry about. It's a 3.7-inch LCD screen, a good balance between size and portability, with a decent resolution of 854×480 for a pixel density of 265ppi.
The display is adequate but not top of the line. Brightness is good but contrast is average, and at full brightness the colors look a bit washed out. Touch screen sensitivity is good; our multi-touch test resulted in only two fingers being recognized at a time.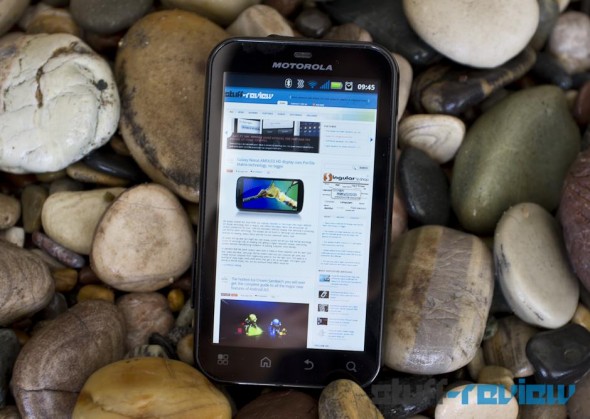 Performance
The key improvement over the last generation is performance. We've run the Quadrant benchmark a number of times, with an average score of, a not to be laughed at, 1,689, on par with the scores we got for the HTC Incredible S, and way over the 1,100 scores of the original Defy.
For a mid-range device, the Defy+ certainly has the chops for most tasks. We ran a couple of demanding 3D games on the device and the Defy+ performed like a champ.
Reception
We have no qualms here, both 3G/GSM and Wi-Fi reception was good. The Defy+ offers 802.11 b/g/n and Bluetooth 2.1. When re-connecting a Bluetooth headset, call-volume always started at low, though this would be a software bug rather than hardware issue.
Audio quality
If it's one thing we really want to commend the Defy+ on, is for the satisfyingly loud sound. Both the earpiece and the speaker are loud and for the first time I didn't have to max-out ringtone loudness.
Battery life
Battery capacity is a pretty standard 1,700mAh. It can last through a whole day and some, but if you are a casual gamer you can quickly run the battery to its knees. If you are not used to Android battery life then you might be a bit disappointed. Nevertheless, the phone charges up surprisingly quickly.
Camera
On the back of the phone you'll find a 5-megapixel camera and an LED flash. It's about as average as they can get. Nothing stellar but nothing horrible either. There is no front camera, so video-chatting is pretty much out.
Software
The Defy+ comes with Android 2.3.4 Gingerbread pre-installed. Android 4.0 Ice Cream Sandwich (ICS) is now a reality, although only one device will ship with it, the Galaxy Nexus. We see no reason why Motorola won't upgrade the Defy+ to ICS at some point, it's a late-2011 device anyway, but the timing will depend on Motorola. Motorola customizes its Android devices with the Motoblur UI, which we cover below.
The Defy+ also comes with the Swype keyboard pre-installed, though you can switch to the standard Android multitouch keyboard if you choose. There are a couple of pre-installed apps, which fall on the useful rather than the bloatware side, like the Zinio e-magazine service and CardioTrainer, that you can't however uninstall completely.
Motorola's Motoblur
It's both a blessing and a curse. A curse particularly to those who prefer a stock Android experience and because it does seem to affect performance. While things are generally speedy, thanks to the 1GHz processor, certain actions can, once in a while, take an unusual amount of time, like on occasion when opening your app drawer. We would guess this is because of Motoblur.
On the other hand Motoblur offers a few usability improvements over stock Gingerbread, such as the ability to dismiss individual notifications, resizable widgets, reports on data usage and which apps are using the most data. Things that can now be found in ICS.
There is also a general inbox combining messages, emails and social network messages, while your contacts list can automatically pull contacts from all your social networks, Google and Motoblur.
HTC's Sense, in our opinion, is more of a finished product, but we would definitely not put Motoblur in the negatives. Note, that you will need to setup a Motoblur account to use the Defy+.
Wrap-up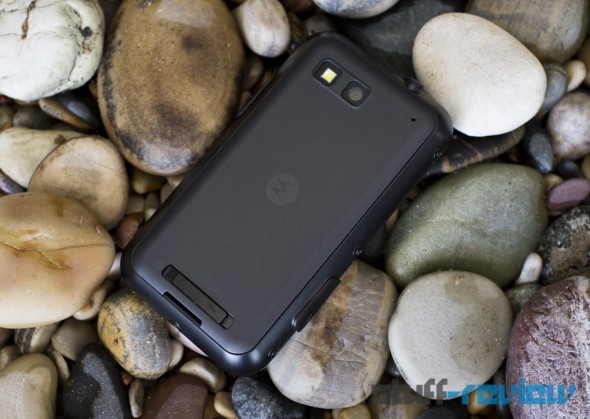 The Defy+ is a good all-round mid-range Android smartphone with the added benefit of also being 'life-proof' — as Motorola puts it. The important part is that the added ruggedness doesn't come at a cost, either in terms of price or looks. It's good to have a device that is not high maintenance, though a larger battery would have put all worries to rest.
After spending two weeks with the Defy+, I've found that it's a device that grows on you. I wouldn't have any reservations in recommending it to anyone looking for a new smartphone at this size and price.
Compared to…
Compared to the cheaper HTC Wildfire S, the Defy+ has a bigger screen, faster processor and larger on-board storage, it's certainly a better choice in my opinion. On the other hand the 3.7-inch Desire S is more polished but lacks the ruggedness and is more expensive, though more fashion sensitive buyers should go for the Desire.
Motorola has also recently announced the high-end RAZR which is also a tough device with Gorilla Glass screen, Kevlar back and a splash-guard coating. However the RAZR is in a completely different league and is much more expensive.
Advertised features & specifications
Powered by Android 2.3 (Gingerbread)
1 GHz processor that runs 25 percent faster for efficient Web browsing and multitasking
Water resistant, scratch resistant and dust proof to withstand all that life throws your way
Features scratch resistant Corning Gorilla Glass
3.7-inch high-resolution touch screen display
Music Player connects you to all your favourite artists
MOTOBLUR lets users stay in touch with friends, providing quick access to social media accounts and live widgets directly from the homescreen
Motorola Media Link allows users to sync their media content from their desktops at home or work
Loaded with the ability to create group emails and communication to stay in touch with friends
Adobe Flash Player 10 for uncompromised viewing of applications, content and videos
5MP camera with auto focus, flash and digital zoom
2GB internal; 2GB microSD card in box, expandable up to 32GB
Access to Google apps (Google Maps 5.0 with Navigation, Google Talk, Browsing)
1700 mAH battery for 7.1 hours of talk time and 16 days in standby
Motorola Defy+

review score: