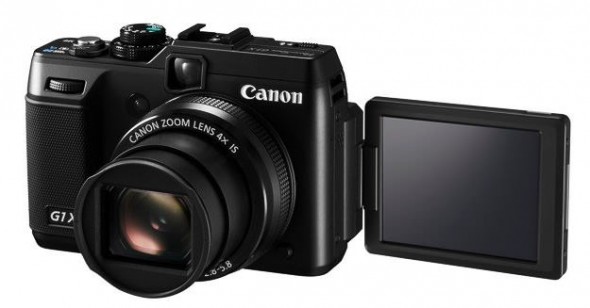 Canon will not enter the mirrorless interchangeable lens camera space, instead the camera maker has announced a new large sensor bridge camera in its PowerShot G series. The PowerShot G1 X will become the flagship model in the series ahead of the G12. What's special about the G1 X is the new 1.5-inch 14.3 megapixel CMOS sensor which is slightly larger than a Micro Four Thirds sensor. The new sensor measures 18.7 x 14 mm compared to a Micro Four Thirds sensor which is 17.3 x 13mm. In fact the G1 X's sensor is 6.3 times larger than the sensor inside the PowerShot G12.
We would imagine that such a large sensor will allow the G1 X some pretty respectable low-light performance, while the camera can shoot up to ISO 12,800. The lens offers an 4x optical zoom from 28-112m with aperture ranging from f/2.8 to f/16. Combined with the large sensor it should offer some pretty nice shallow depth of field. The G1 X has EOS-like features, like 14bit RAW shooting and is compatible with various accessories including Speedlite hot-shoe flash units. The camera comes with a 3-inch 922,000 dot articulating LCD screen and it's capable of 1080p HD video shooting.

Obviously Canon won't be giving these away, though the $799.99 price point would be enough to make many potential buyers think twice. Interestingly Fujifilm is selling its own X-S1 superzoom bridge camera at the same price. You'll be able to pick a PowerShot G1 X starting February.

Press release:
CANON U.S.A. INTRODUCES THE HIGHEST IMAGE QUALITY POWERSHOT DIGITAL CAMERA, THE G1 X, AND FEATURE-PACKED ELPH SERIES CAMERAS

LAKE SUCCESS, N.Y., January 9, 2012 – Continuing to revolutionize the digital camera market, Canon U.S.A., Inc., a leader in digital imaging solutions, today announced the introduction of a new flagship PowerShot model, the PowerShot G1 X, in addition to two stylish PowerShot ELPH models, the ELPH 520 HS and ELPH 110 HS. The PowerShot G1 X camera will feature a 1.5-inch, 14.3-megapixel CMOS sensor, the largest sensor to date for a PowerShot model, delivering approximately nine times more light sensitivity and helping to produce amazing depth-of-field and high-quality images in tough low-light conditions. For those users looking for a camera with advanced features in a compact form both the PowerShot ELPH 520 HS, the world's thinnest 12x optical zoom with a 28mm lens1, and PowerShot ELPH 110 HS feature a sleek design and compelling creative capabilities.

"The new additions to our PowerShot lineup further demonstrate Canon's commitment to delivering users innovative imaging products," said Yuichi Ishizuka executive vice president and general manager, Imaging Technologies & Communications Group, Canon U.S.A., Inc. "These sleek and compact cameras bring together powerful features, intuitive controls and unrivaled portability while maintaining high image quality."

The Power of DIGIC 5
Living up to its reputation as a leader in the digital camera marketplace, Canon has incorporated the DIGIC 5 image processor into the HS SYSTEM for all three models. Achieving better quality images in low-light settings, boasting faster operation and providing improved color accuracy, the DIGIC 5 image processor ensures users are able to produce high-quality images in the most difficult of lighting conditions. The processor will also enable the PowerShot G1 X camera to utilize the High-Speed Burst HQ2 feature allowing photographers to shoot images at high speeds at full resolution to capture the perfect moving shot. Additionally, to ensure images are crisp and clear, advanced noise reduction and a smarter multi-area White Balance can be utilized to achieve accurate color reproduction for a balanced image.

Advanced Smart AUTO
Advanced Smart AUTO, available in the PowerShot ELPH 520 HS and ELPH 110 HS, can detect up to 58 scenes varying from non-human moving subjects to people, landscapes, pets and vehicles, helping the camera determine the best mode of shooting. This technology has been enhanced to include a new Face ID feature, allowing users to register up to 12 people on the camera and have the camera recognize and prioritize each person. When registering individuals on the camera, users can take up to five images of a subject at various angles or facial expressions and enter their name and birth date. This allows the camera to make one of three age distinctions: Babies (0 to 1 year old), Children (2 to 12 years old) or Adults (13 years or older). Based on these different groups, the camera will give focus priority to the youngest recognized group in the frame and makes the images searchable as well with the ability to view only those images of a particular person.

Further additions to this new feature are Smile Recognition and Sleeping Face Recognition. With Smile Recognition, the camera will take three consecutive shots of a scene such as a smiling baby or of grandparents at a family get together and select the best out of the three for the final image. For Sleeping Face Recognition the flash, assist beam and sound is turned off for that precious moment to be captured while not disturbing one's sleep.

PowerShot G1 X Digital Camera
Ideal for photography enthusiasts looking for the highest image quality in a compact, point-and-shoot design, the Canon PowerShot G1 X camera features the largest sensor to date for a Canon point-and-shoot model. The camera has a brand new, large 1.5-inch (18.7 x 14mm), 14.3-megapixel High-Sensitivity Canon CMOS sensor, delivering shallow depth of field, a wide dynamic range, an ISO range of up to 12800 and incredible light gathering ability helping to ensure brilliant images in even tough low-light conditions. Featuring an amazing Canon lens with 4X Optical Zoom, an aperture of f/2.8 to f/16 for beautiful images when shooting portraits and amazing clarity when shooting landscapes along with wide-angle capabilities starting at 28mm, the PowerShot G1 X camera makes certain that users will have the right optics for most any situation. Further adding to the EOS-like feature set of this new model is 14-bit, RAW+JPEG shooting and compatibility with accessories such as Speedlite, Macro Twin Lite or the Macro Ring Light flashes. HDR Shooting has been included to ensure the best possible shot is captured as well. The PowerShot G1 X camera also shoots in Full HD 1080p video ensuring memorable moments are captured in the highest quality.

The Canon PowerShot G1 X camera has a bright, large 3.0-inch vari-angle LCD with 922,000 dots of resolution providing photographers with the highest quality available in a point-and-shoot. The inclusion of the Mode Dial on the top of the camera and the Front Dial helps provide more intuitive control of the camera.

The estimated selling price of the Canon PowerShot G1 X camera is $799.99 and is scheduled to be available in February.