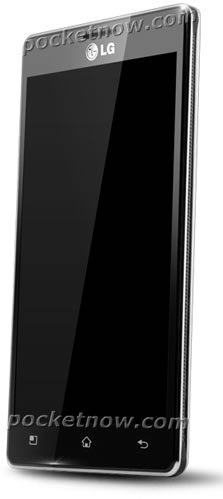 We pretty much know what a flagship Android handset will be like during 2012. You can rest assured it will have a 720p resolution with a large 4.5-4.7-inch screen, run Android 4.0 Ice Cream Sandwich and have quad-core (like the Nvidia Tegra 3) or very fast dual-core processor.
A new leaked handset by LG fits this profile perfectly, and is set for a face-off with HTC's rumored Edge for the title of the first quad-core smartphone. The LG X3 (final retail name be different) is said to be a quad-core Tegra 3 handset with a 4.7-inch 1280×720 display, 8-megapixel rear and 1.3-megapixel front cameras and NFC capabilities.

It's said to be paired with a not-too-shabby 2,000mAh battery but maintain a sub-9mm (0.35 inch) thickness. It should have a variety of 3G and 4G radios depending on region and would be launching in the first half of the year — with a possible appearance as soon as next month at the Mobile World Congress.
Of course like all good Android smartphones this year it should be running Android 4.0.
[via Pocketnow]