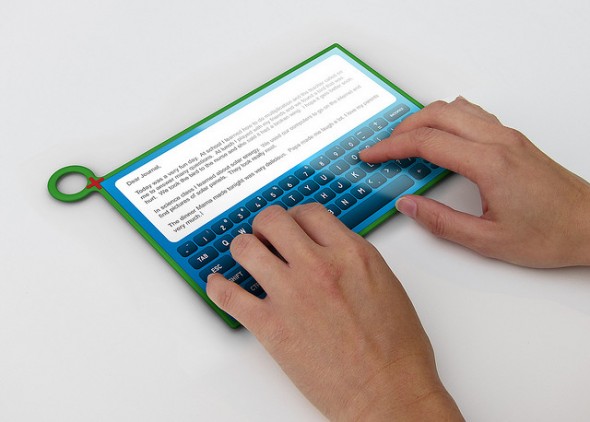 One Laptop Per Child (OLPC) has just announced that the organization's promised under $100 XO 3.0 tablet will be shown off at CES 2012. OLPC will also be delivering its first XO 1.75 laptop orders in March to school children in Uruguay and Nicaragua.
Nicholas Negroponte, the founder of OLPC, announced the XO tablet over four years ago, however the development process overrun the 2010 initial delivery date. The XO 3.0 tablet was designed by Yves Behar, who's also designed the XO laptop and the B&N Nook Color. Above is the initial concept render of the XO 3.0, though the design may have now changed.
Based on preliminary specs the XO 3.0 tablet will have an 8-inch 4:3 1024 x 768-resolution display configurable as either a standard LCD or a dual-mode Pixel Qi sunlight-readable screen. It will run on a Marvell Armada PXA618 SoC, with either 512MB or 1GB DDR3 RAM and 5GB to 16GB of NAND storage. Approximate weight will be 0.5kg (around 1lbs).

Because of its intended use by children in the developing world, the tablet will feature a number of innovative charging options, like a hand crank or a solar panel, and according to initial specifications it will also be waterproof and durable.
At least one configuration of the XO 3.0 tablet will go for under the $100 mark and similar to other OLPC projects, the tablet will be offered to governments and institutions. The XO tablet will ship with the OLPC developed Sugar operating system but will also be able to support Android and Linux.
UPDATE: We've finally got some official images of what the XO 3.0 tablet looks like now (below). It seems that it's got way fatter over the years. Still however a great effort from the OLPC team.