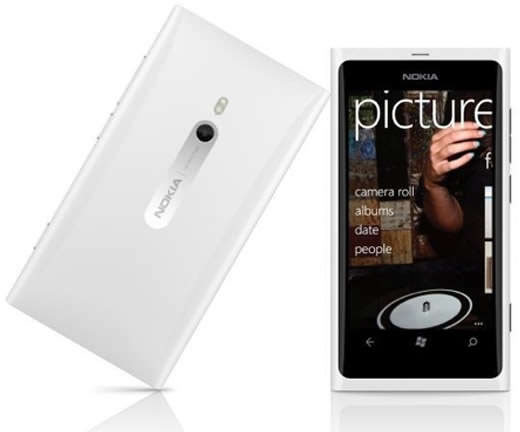 Choosing the right colors and producing the polycarbonate body for its Lumia smartphones has been quite a journey for Nokia. The Lumia 800 was initially launched last October in the now familiar cyan, magenta and black hues and as promised (and not to be outdone by Samsung), Nokia has just announced the release of the all white version, first seen on the Nokia Lumia N9.

As Nokia is quick to point out, This is no spray-on finish. Like the other Nokia Lumia 800's colours, the unibody polycarbonate is dyed all the way through and milled like metal to give it the high-tech feel. Or as Nokia materials designer Tiina Aarras called it, the purest white body which creates a nice contrast with a black glass screen.
Inside this angelic plastic, you'll find the same 3.7-inch AMOLED ClearBlack curved display, 1.4GHz processor, 16GB of built-in storage, HD-capable camera with Carl Zeiss optics, all running on Windows Phone 7.5.
The white Lumia 800 will be available later this month in the UK, Germany, France, Italy, Spain, Netherlands, Scandinavia, Poland and Switzerland, with other countries to follow.
"Since we began selling it late last year, the Nokia Lumia 800 has received rave reviews around the world," said Ilari Nurmi, Vice President of Product Marketing, Nokia. "Now in white, the Lumia 800 brings with it an even more premium look and feel with its gloss finish, but packed with power and performance underneath its sleek body."
As a reminder, Nokia didn't go to all this trouble with the polycarbonate body just for its looks. The absence of metal from the case helps to simplify antenna design, improve signal strength and avoid any sort of 'death grip'. Too bad it doesn't help prevent software related battery issues.
Conversations by Nokia
]