January 19, 2012 at 12:45 pm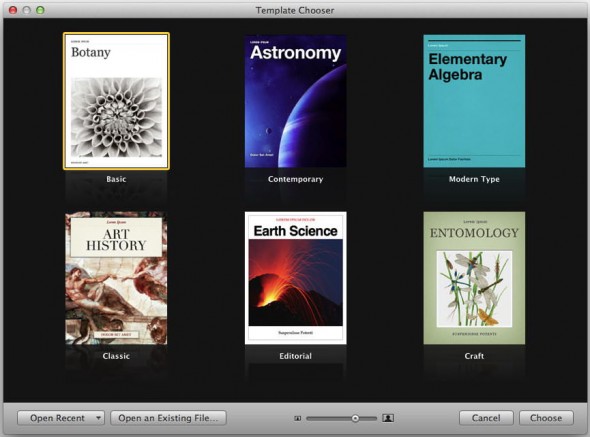 Apple has just announced the free iBooks Author Mac OS X application, which allows anyone to create and publish eBooks to Apple's iBooks platform for the iPad. I went ahead and downloaded the free app from the Mac App Store, which only took a couple of minutes, and fired it up to for a first test.
First impressions are really good, the key to the application is simplicity. If you've ever used Blurb to publish a book, the experience is similar but faster and more accurate. On launch, you get a choice from six existing templates, or you can start from scratch. The six templates are OK for a start but relatively limited.
After that it's a matter of putting down the text, either writing it directly or dropping a document on the page (you have full control on the typography and colors of course), and other content. Dropping images works very smoothly and you can easily move, resize, bring to front or send back. Things auto-align nicely and text boxes can snap to the end of other boxes automatically. While you are moving objects, guides pop-up to show you the margins between other objects and the page ends.
continue reading