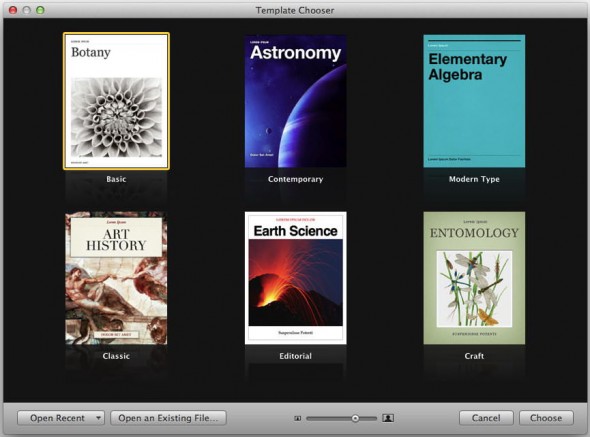 Apple has just announced the free iBooks Author Mac OS X application, which allows anyone to create and publish eBooks to Apple's iBooks platform for the iPad. I went ahead and downloaded the free app from the Mac App Store, which only took a couple of minutes, and fired it up to for a first test.
First impressions are really good, the key to the application is simplicity. If you've ever used Blurb to publish a book, the experience is similar but faster and more accurate. On launch, you get a choice from six existing templates, or you can start from scratch. The six templates are OK for a start but relatively limited.
After that it's a matter of putting down the text, either writing it directly or dropping a document on the page (you have full control on the typography and colors of course), and other content. Dropping images works very smoothly and you can easily move, resize, bring to front or send back. Things auto-align nicely and text boxes can snap to the end of other boxes automatically. While you are moving objects, guides pop-up to show you the margins between other objects and the page ends.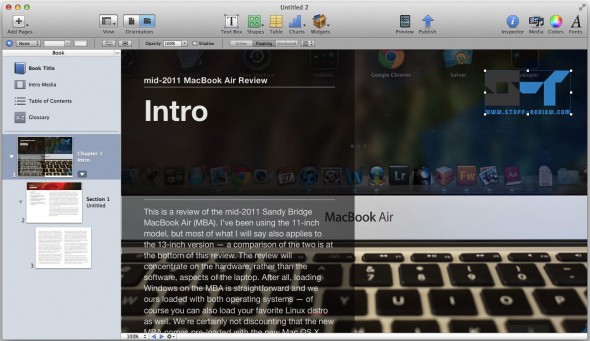 You can also add charts, tables and shapes directly from the application. As we've mentioned in our initial report, you can import videos and other interactive objects named widgets.
I'm really impressed on how smooth the application runs and how quickly images and videos render. A couple of videos didn't import right away, but a quick transcoding through QuickTime did the job. After you've dragged and dropped your video you can play it back directly from the page.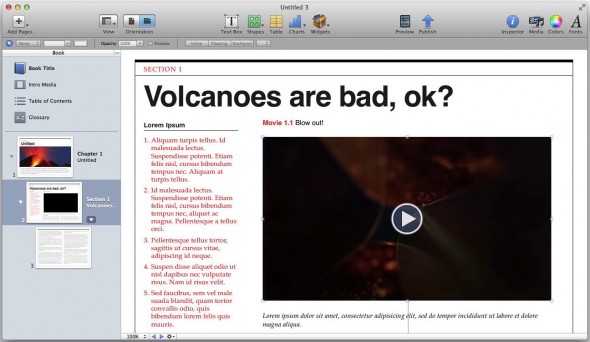 The application automatically creates a table of contents and you can also create a glossary of terms — the application is obviously well suited to publishing textbooks. Another option is to add an intro video to your iBook. I think the big win here is that you can get very polished results with a very short learning curve.
When you are done, the two key buttons are 'Preview' and 'Publish'. With Preview, you can connect an iPad to your computer and load your iBook in-the-making, so you can see how it will look on the device. Finally Publish, submits the eBook to Apple's iBookstore. Obviously a limitation is that you can only read iBooks on the iPad at the moment.