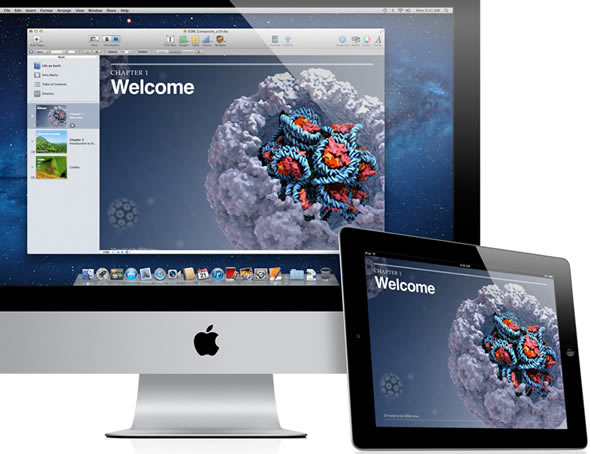 Apple's education and iBook related event in now underway at New York City's Guggenheim museum. The company just unveiled iBooks 2 for the iPad which now includes textbooks, but that's hardly the only important announcement for today. In a bid to make every person a book publisher, Apple has just unveiled a free Mac OS X application, names iBooks Author, that will allow anyone to design and publish their own books on the iBooks platform.
iBooks Author can be downloaded now from the Mac App Store, as we've said for free, and the idea behind it is that it brings drag and drop simplicity to authoring multi-touch eBooks. The application comes with a host of templates to get you started though you can completely customize the look of your book. You can enter your text directly to your book's pages and you can drag and drop photos, videos and even Pages and Microsoft Word documents directly into your book. You also have the option of making your iBook interactive and for that you have the widgets. Widgets add multi-touch interactivity and include photo galleries, 3D objects, animations and Keynote presentations. You can also add your own Javascript or HTML if you are feeling more adventurous.

The best part of the application is that once you are done you can submit your eBook to Apple's iBookstore directly from iBooks Author for sale or as a free download. You can also export it in iBooks format and share on iTunes U or open it on an iPad.
Create and publish amazing Multi-Touch books for iPad.

Now anyone can create stunning iBooks textbooks, cookbooks, history books, picture books, and more for iPad. All you need is an idea and a Mac. Start with one of the Apple-designed templates that feature a wide variety of page layouts. Add your own text and images with drag-and-drop ease. Use Multi-Touch widgets to include interactive photo galleries, movies, Keynote presentations, 3D objects, and more. Preview your book on your iPad at any time. Then submit your finished work to the iBookstore with a few simple steps. And before you know it, you're a published author.

Apple-designed templates
Give your book a great beginning with templates that include a choice of page designs with matching fonts, colors, and textures
Easily customize your book with text and images, create new layouts, and even save a custom template
Use the Book Navigator to organize your book and add a cover and table of contents

Beautiful text and layouts
Use a variety of text styles in each template to give your book a rich yet consistent look
Add text, shapes, charts, tables, and media anywhere on the page
Import a chapter written in Pages or Microsoft Word and apply a great-looking layout from your current template
Add any word to the glossary with a single click and easily include photos, images, charts, tables, and shapes next to any definition
Automatically create a portrait view of your book, which allows readers to focus on the text

Multi-Touch widgets
Choose from a variety of widgets that add Multi-Touch interactivity to your book
Add a photo gallery, chapter review, movie, Keynote presentation, interactive image with callouts, 3D object, or custom HTML anywhere in your book
Widgets include placeholders for titles and captions and are automatically numbered so you can reference them in your main text
Add accessibility descriptions to any widget so that it can be used by sight-impaired readers easily with VoiceOver

Export for iBookstore or iTunes U
Preview your book in iBooks on an iPad to see how it looks and works
Easily add a cover, video introduction, copyright page, dedication, and foreword
Submit your book to the iBookstore for sale or free download with a few simple steps*
Export your book in iBooks format to share on iTunes U or to give to others
Create a version of your book as a PDF file

Keynote '09 (v5.1.1 or later) is required for Keynote widgets
iBooks 2 is required for previewing
iTunes 10.5.3 is required for syncing
* Books may only be sold through the iBookstore; additional terms and conditions apply.