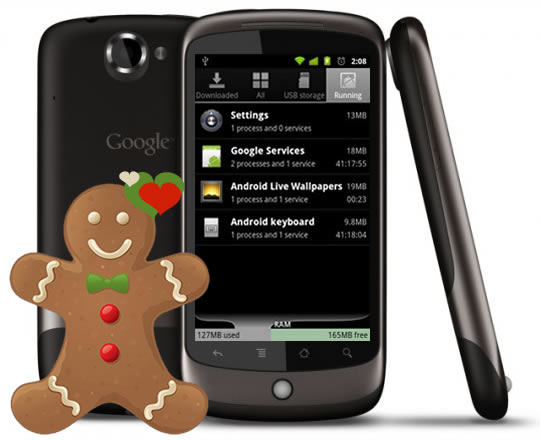 Anxious Nexus One owners are finally getting some official Gingerbread love with Android 2.3.3 now beginning to roll out as an over-the-air update. The Nexus One's younger brother, the Nexus S is also joining in for the fun getting additional near-field communication (NFC) capabilities, such as the ability to write to rewritable NFC tags, while 2.3.3 also fixes a number of bugs such at the random reboots that had plagued the Nexus S.
This is the first update to Gingerbread for the Nexus One. News broke via Google's Nexus official Twitter account ending months of 'agony' for Nexus One owners which saw their lovely handsets living in the shadow of the Nexus S, with Gingerbread having been promised to be 'a few weeks' away.

You can get your device to check-in for the update by typing the following in your dialler: *#*#checkin#*#* or *#*#2432546#*#*.
However Google is reporting that the OTA update process could take a few weeks to trickle down to everyone but we are sure that direct links should emerge shortly and we will keep you posted with instructions on how to manually update your device.
[
GoogleNexus on Twitter
]
Update: The jackals at xda-developers finally unearthed the direct links for the updates. You can grab the official Nexus One Gingerbread update here; while those looking for the Nexus S update link can get it here.
Updating your Nexus One couldn't be simpler.
[
xda-developers
]