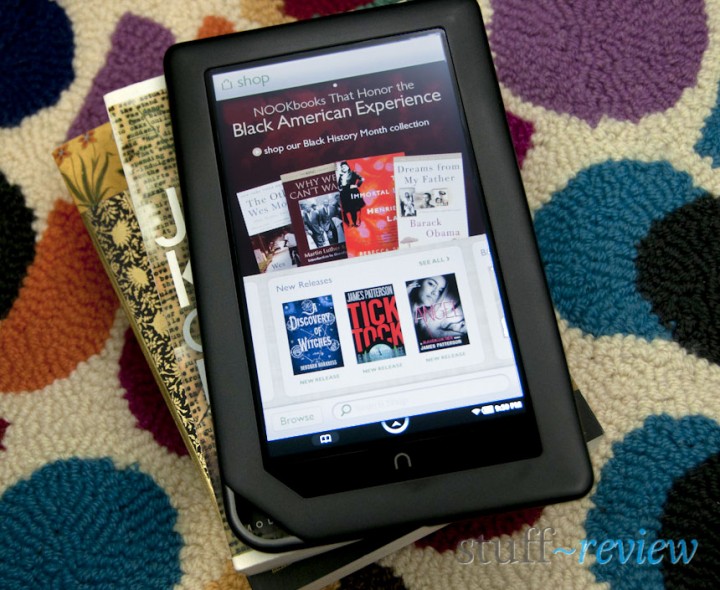 It's been almost three months since this e-reader / tablet landed on our doorstep and I've already spent several hours of quality time with it. Barnes & Noble has taken a different approach with its second e-reader device, donning the Nook Color with a full 7-inch color touchscreen and doing away with E-Ink. Despite this move, unsurprisingly, the Nook Color is still a book centric device out of the box.
This review of the Nook Color centers on its suitability as an e-reader device. Despite this I must note that the Nook Color has great potential as a full-fledged tablet and, the never-tiring Android hacking community has really embraced the Nook Color and continues daily to unlock its potential. A follow-up review will be posted soon that will look into the Nook Color as a tablet.
Moving right along, I must say from the kick-off that B&N has created a really great e-reading device that is a pleasure to take everywhere, hold and use and is offering it at a very attractive price, $249. However the Nook Color is not without frustrations and the software experience is still rough around the edges; with each over-the-air update, however, bringing it closer to perfection. Despite these, it still might not be the device for everyone, and we will try to convey both the shortcomings together with the benefits of this device. Hopefully by the end of this lengthy review you should get an idea if this is the right device for you. So read on to find out.

Pros
Great all around hardware, unique and functional design and nice color display, especially for this price
Size, weight and power balance ideal for what the Nook Color is i.e. an e-reader with tablet abilities
Killer magazine reader application while automatic delivery is bliss
Some innovative social features such as book lending and sharing quotes from books
Handles a large variety of documents formats
Internet browser and extras add another dimension to the device
Cons
Limited battery life, for an e-reader, of 6-8 hours
Software lacks all-round cohesion and polish, based on the older and slower Android 2.1 (though expect an update soon)
Book library not as extensive compared to the Kindle, while some eBooks lack refinement
Screen suffers from some glare
Only plays video files that have been converted to M4V format limiting its use as a PMP
Specifications
Screen: 7-inch, 1024 x 600 IPS display (169PPI)
Processor: TI OMAP 3621 CPU clocked at 800MHz
Memory: 512MB of RAM
Storage: 8GB of flash
Additional storage: Accepts microSD cards of up to 32GB
Connectivity: 802.11b/g/n Wi-Fi
Battery: 8 hours with Wi-Fi off
Dimensions: 8.1 x 5.0 x 0.48 inches
Weight: 15.8 ounces
Supported File Types
Documents: ePUB, PDF, Word, Excel, PowerPoint, Plain text
Images: JPG, GIF, PNG, BMP
Audio: MP3, AAC
Video: MP4
Hardware
Size, Weight & Build
The Nook Color, measuring 8.1 x 5 inches, is the size of a typical paperback (at least the one I had lying on my coffee table) and at just 0.48 inches thick, it's super skinny and sexy.
Picking it up, you are initially surprised by the heft of such a skinny device, weighing 15.8 ounces it feels substantial in the hand, but again similar in weight to a larger paperback. While others have complained about the weight I think it's just right and shouldn't cause any fatigue from extensive use, at least not more than a standard book would. Note it is heavier than a dedicated e-ink reader, i.e. the Kindle—more on that later—but lighter than most tablets, like the iPad.
Finally, build quality is also really good, surprising for a device costing just $249. The back is covered with a non-slip rubberized plastic that just feels nice to hold-on to while the rest is made of a hard grey plastic with the rim being of the shinier variety than the front.
Overall, the size and weight make up for a device you can easily carry with you anywhere without weighing on you while it is a joy to hold and look at.
Design
Setting itself apart from the crowd the Nook Color has taken on the genius of industrial designer Yves Behar, known for his work on the OLPC laptop, Herman Miller, Jawbone and a host of others. It comes as no surprise then where the Nook Color has got it smooth organic lines from. The front is dominated by the 7-inch display while a physical button styled as an "n" serves as the home button. The only other buttons are on the sides, power on the left and the two volume buttons on the right. At the bottom-left you'll find a small loop; a nice design flair providing easier access to the microSD latch in the back and would also serve to attach a lanyard I guess.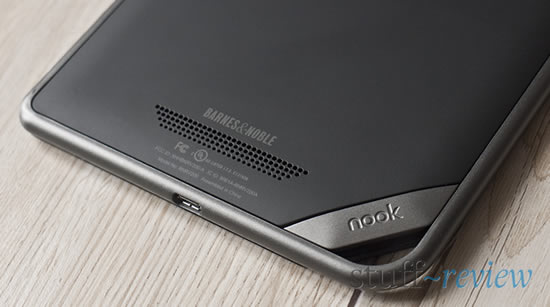 On the back you'll find the speaker running along the bottom while, as mentioned, a magnetic latch conceals the microSD card slot—accommodating a card for up to 32GB of additional storage. A large n is engraved on the back rubber while the magnetic latch also reads 'nook', all serving as nice touches completing the overall design.
The device's only ports are a 3.5" headphone jack at the top right while a micro-USB port for charging and syncing is located at the bottom center. The Nook Color comes with a USB cable which lights up orange to show that it is charging and turns green once the device has charged; note that this cable however is not compatible with other micro-USB devices.
Display
The Nook Color's most prominent feature is its multi-touch 7-inch 1024 x 600 IPS LCD display. There has been much debate on the pros and cons of LCDs vs E-Ink displays for e-readers. The latter closely resembling printed matter with high resolution, crisp text that can be read under bright light without straining the eyes and with minimal battery drain.
Disregarding this debate for the moment, the Nook Color's screen is gorgeous! It's quite bright with good viewing angles, nice color representation and good resolution. At the $250 price point, the only other branded devices with a 7" color touchscreen are the Archos ones, and their screen is of a much lesser quality.
The Nook Color's screen is pre-coated to reduce glare however there are certain lighting conditions where the screen is quite glary and hard to read. Barnes & Noble sells an anti-glare screen protector and I've found that it does help to reduce glare further. However except for these rare cases I've found it very comfortable to read on the Nook Color without really suffering from eyestrain, the text is quite sharp while in all cases a color image is so much nicer than a black and white one—current production E-Ink displays are black and white.
Battery Life
Battery life is average. B&N claims that the battery would last up to 8 with Wi-Fi off. I estimate that battery lasts a bit more than 6 hours on varied use, i.e. listening to music, surfing and reading. It's not bad and you can get through a whole day but it's not enough when you need it the most; e.g. when travelling. As a way around this issue, I generally carry with me a USB battery when away, which provides some extra juice and should help you get through a whole day more easily.
Overall I don't think B&N could have done much about battery life since the Nook Color's best asset, its screen, seems to consume the most power and we feel that the device's heft is due to the large battery already inside. Oh battery is non-removable by the way.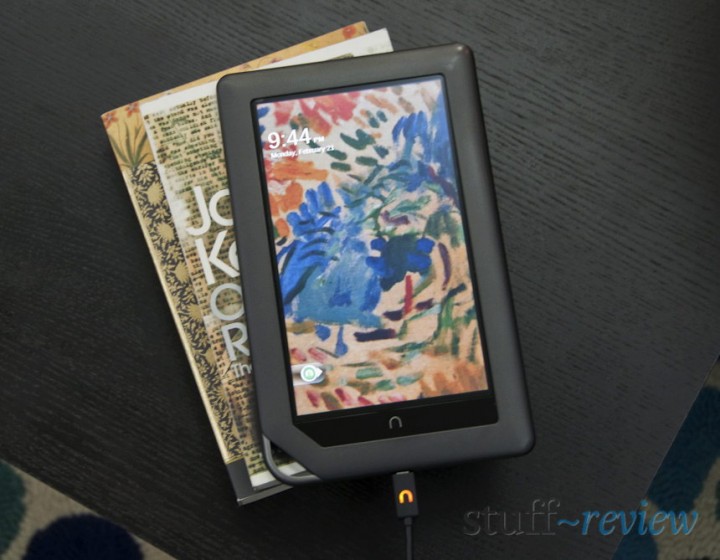 The non-standard micro-USB cable, which the Nook Color comes with, charges the device faster. However you can charge the NC with any standard micro-USB cable, the device will not show that it is charging but it will charge, albeit more slowly. What is more important is the actual USB adapter, if you will use a different one than the one supplied, make sure it can pump enough juice, i.e. more than 1A.
Everything Else: Connectivity, Speakers, Touch Sensitivity
Connectivity is via Wi-Fi only. Some lament the lack of 3G connectivity, however this would require an additional wireless subscription and I find it more convenient to just tether the device to my phone.
Sound quality is acceptable but not great, it would have been better if B&N had integrated two separate speakers in different positions. Volume is ok when there is space between your surface and the device or you keep it in a special case as the back is not arched enough and the speaker sounds muffled while lying flat. However I would imagine listening with the Nook Color mainly with headphones. Note I've encountered a problem with my noise-cancelling earphones whereby electric noise was passed to the earphones and I couldn't use their noise-cancelling function, one the quirks of using the Nook Color.
The screen is capacitive and touch sensitivity is ok, but not up to the level of top end smartphones or the iPad. There is also a well-documented issue whereby the touchscreen behaves erratically when the Nook Color is connected to the supplied charger. Our device had the same issue; however those devices affected must have been from the initial batch. If your device is having the same problem you can return it to B&N for exchange.
Software
The Nook Color runs, under the hood, one of the best-hidden iterations of Android that we've encountered; while on top Barnes & Noble has created a completely custom experience that centers on, guess what, books!
Upon boot you are presented with the home screen. There are three scrollable home screens where you can place, move and size the covers of your downloaded books, magazines and papers while a 'daily shelf' runs along the bottom and includes all the latest downloaded material. At the top of the home screen there are quick links to the last few documents you had opened. Note, at any time pressing the 'n' button brings you back to the home screen.
At the bottom you will find Android's notification bar, and the B&N flavor contains a clock, battery, Wi-Fi and notification icons, a quick link to your last opened document and an arrow which extends the bar to show the main navigation bar.
This navigation bar, which is B&N's creation, is the key UI element allowing you access to all of the Nook Color's applications. Here you have direct access to: the library, book store, search, internet browser, applications (called extras) and settings.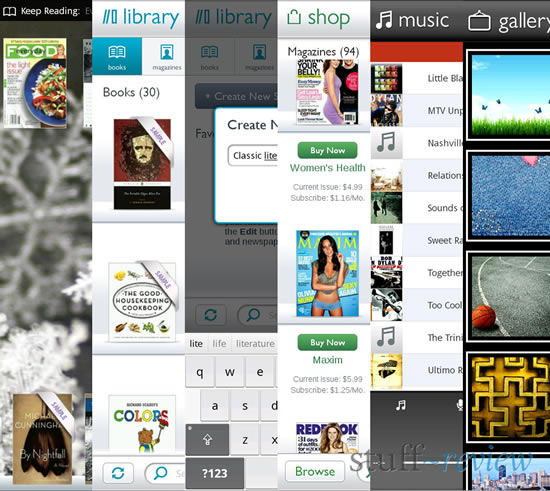 All of your books, magazines, newspapers are located in the library which is designed to resemble shelves of books. You can also create your own shelves where you can place a quick link to any book or document including PDF files or side-loaded books. Finally from the 'My Files' tab you can browse the device and memory card and open any supported document file.
The software as a whole does feel a bit rushed and lacking polish in certain aspects. B&N probably rushed to get the Nook Color out on the market before Christmas and I'm pretty sure they are working to make the experience more streamlined and fix bugs. There have already been two minor over-the-air updates, dealing with a couple of issues while the latter also added pinch to zoom in the browser, something that was omitted initially. There is also some duplication in terms of shortcuts to do certain things, i.e. to continue reading or adjust brightness, but we appreciate the fact that B&N have done their best at getting you back to reading ASAP.
The software is based on, a now, much older version of Android, 2.1 (Éclair) which is unfortunate since version 2.2 (Froyo) introduced significant performance improvements and in-browser flash support (to view flash videos etc). There has been talk that B&N intends to update eventually to at least 2.2, while they have also indicated that they will be launching a Nook app store very soon which would allow you to load more applications—without having to root your device.
The browser is no worse than stock Android and gives the Nook Color some internet browsing muscle and tablet like abilities. However the current stock extras are as basic as you can get, with a gallery app where you can view images and play video files (which have been converted to m4v format), a music app, Pandora, Sudoku, Crossword and Chess.
From the extras, the one that has had the most use has been Pandora, offering a nice 'soundtrack' to your reading. I have also converted and taken a couple of TV shows on occasional flights however you must be slightly technically adept and devote time into converting videos to the standard format for these devices. It would have been nice if B&N had included support for additional video formats giving the Nook Color an extra edge against other devices.
On-screen Keyboard
Although the Nook Color is primarily a content consumption device you will use the keyboard to search, browse, write notes and occasional emails etc. I've found the on-screen keyboard to be easy to use, benefiting from the larger size of the screen. Again the keyboard is pretty much stock Android modified to fit the design of the overall software. There is no voice input unfortunately on the Nook Color as it lacks a microphone.
Reading on the Nook Color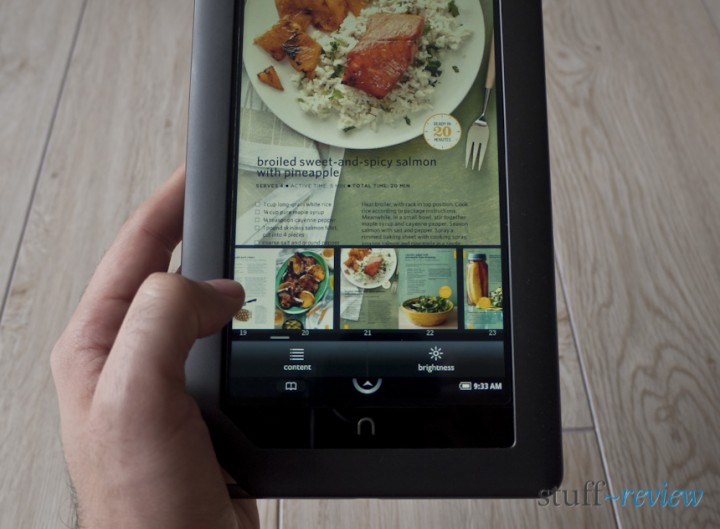 Although I initially had my reservations regarding reading on the Nook Color, especially coming from an E-Ink screen environment, I can say surely that it is absolutely fine to read on its LCD screen, much like you do every day on a laptop or desktop computer screen—the only issue as mentioned above being the occasional glare.
So, the reading experience largely depends on the software, availability of books and documents and how well these have been converted to an electronic format. The Nook Color handles different types of documents in distinct ways; books are presented differently from magazines, children's books have their own format, while PDFs and office documents are handled differently.
Reading Books
On a last check, B&N had more than 2 million titles available for the Nook Color, some completely free. In many cases you can download a free sample of a book before purchasing it directly on the device. Also because the device supports the popular ePub format you can find many public domain books on-line free of charge, you simply transfer the files to the device and open them through 'my files'.
Books are presented in portrait and changing pages is a left/right affair. There is currently no animation or page flipping effect, the text on the page simply changes. Touching the center of the screen brings up the context bar. Here you can quickly jump to chapters and your notes, highlights and bookmarked pages. You can also search the entire text of a book for words and phrases, share comments on Twitter and Facebook and adjust book text (you have a choice of six different fonts and font sizes).
Touching a word in the text brings up one of the devices best features – you can essentially highlight any text passage, write your own note on that passage which is saved on the side of the text, share quotes with friends by email, Facebook and Twitter (something that I was already doing with books but was so much more arduous before) and look up words in a build-in dictionary!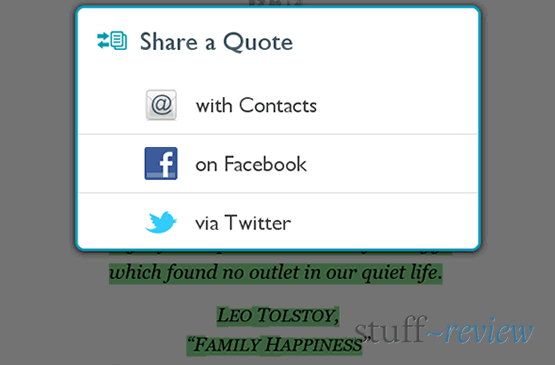 Another Nook first is the ability to lend and borrow books from friends for a predefined number of days. Although we haven't been able to test this feature and the amount of allowable days seems short, I sit and ponder about all the actual books I've lent so far that I'm still waiting to get back, so it does seem like a nice feature.
The only negative is that the quality of some books is not perfect, especially on the graphics side, i.e. maps or graphics in text, which I've found to be smaller/lower quality on the Nook Color than e.g. the Kindle.
Reading (or being read to) Children's Books
Children's books are a completely different category. They are more like applications rather than plain text or how B&N describes them: 'interactive picture books'. It is easy to see why small children would love these and the interactivity while one can also choose to be read to aloud.
Reading Magazines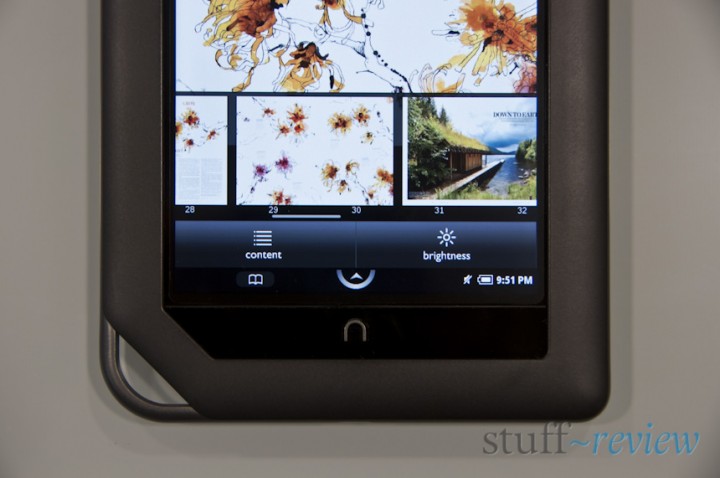 Every device needs a killer app, the one that's going to separate it from the crowd and make someone choose it over others. Reading magazines is the killer app for the Nook Color, this is where it can show off its gorgeous screen, and this is where B&N has put most of its effort in.
Let me just say that I've always considered most printed magazines a wasteful use of paper and energy. I've always had a sense of remorse from the ephemeral use of paper and ink, landing you with stacks of magazines that someday you mean to go back to, but end up throwing away before they take up all your storage.
B&N currently offers 94 mainstream magazines that you can subscribe to or buy just a current issue of, and instead of having to rush to the newsstand, new issues arrive on your device's shelf over Wi-Fi. Finding a just published magazine on your Nook Color when you wake up is just a great feeling.
The overall quality of the publications is great. Unlike books, the electronic versions of the magazines are mostly true copies of their printed equivalents and photos are very sharp and detailed.
Magazines are also arranged different than books. In portrait mode each page occupies the whole screen, you can pinch to zoom and drag to scroll around and to flip pages. The top right corner is where you can bookmark pages for quick future reference. Magazines can also be view in landscape mode which rotates the magazine to a two page spread across the screen. Navigation can be done in different ways, with a single touch on a page you are presented with a thumbnail view of numbered page spreads while the content button brings up a thumbnailed table of contents and your bookmarked pages.
A nice innovation is 'ArticleView' which displays the page's content in a scrollable easy to read box. You can flip left/right through different articles in ArticleView while the box also resizes to landscape in landscape mode.
The only negatives are that you can't print any of the articles and unlike books you can't yet email or share the text and there is no dictionary look-up.
Other Documents
If you read PDFs then this is one of the easiest devices to put your documents on. Pluging in the usb brings up both the internal storage as well as any additional microSD storage on your computer and you can drag and drop your files to the 'My Files' folder. You can also download PDF files from the included browser on the go.
Document navigation is done by flipping up/down. You can pinch to zoom and drag to pan while fit page/width buttons get things back in order. Page flipping is quite fast but large PDFs do seem laggy (though can be laggy on personal computers as well).
You can also open Word, Excel and PowerPoint documents for reading only (no editing) but the viewer is very basic. Consider it as a last resort for the moment.
Versus the Amazon Kindle
This review wouldn't be complete without pitting the Nook Color against the reigning e-reader king, the Amazon Kindle, and there are definitely benefits to the utilitarian no frills approach that Amazon has taken.
The Kindle is purely an e-reader without any tablet DNA. Featuring an E-Ink screen allows the Kindle to be amazingly thin, 1/3 of an inch, and incredibly light at just 8.5 ounces for the 6-inch model, almost half the weight of the Nook Color. The E-Ink screen offers really sharp print-like text and the screen is completely non-glare, it's really like looking at printed material. Battery life is so long, up to a month, that you forget when you had last charged it and charging really becomes a non-issue when traveling. Amazon also offers free 3G connectivity in many countries so you can purchase and download books on the go.
Finally, another aspect that hasn't been sufficiently discussed is the distraction factor. If you are, like me, distracted easily then having a no frills device does let you concentrate on reading.
However the Kindle's strength, its E-Ink screen, is also its weakness. As mentioned current E-Ink screens are black and white, so any colored matter is better on the Nook Color while there is also a short refresh delay due to the E-Ink screen on the Kindle when changing pages.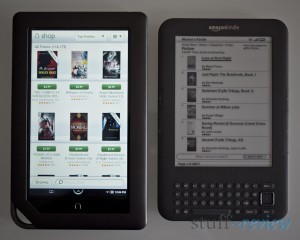 Navigation on the Kindle is done by a physical navigation pad and if you are coming from a touch-screen environment you'll feel compelled to just touch the screen, but then you are reminded that you have to go through a number of key-presses to get things done. The Kindle's user interface also seems archaic, being purely text based it compares to websites back in the early 1990's.
Amazon has also opted for a proprietary format for the Kindle, and while the Kindle library is larger and titles are more polished, it does not support the ePub format and does not allow you load internet sourced ebooks on the device. At the same time PDFs must be sent to Amazon for automatic conversion and loading onto the device.
Although the Kindle currently offers subscriptions to 43 magazines and journals the experience is far different than the Nook Color's with magazines being mainly text with images dotted around.
All in all, it's not accidental that the Kindle is the no.1 selling item on Amazon, for reading text it's great and convenient, however the Nook Color brings a lot more to the table.
Conclusion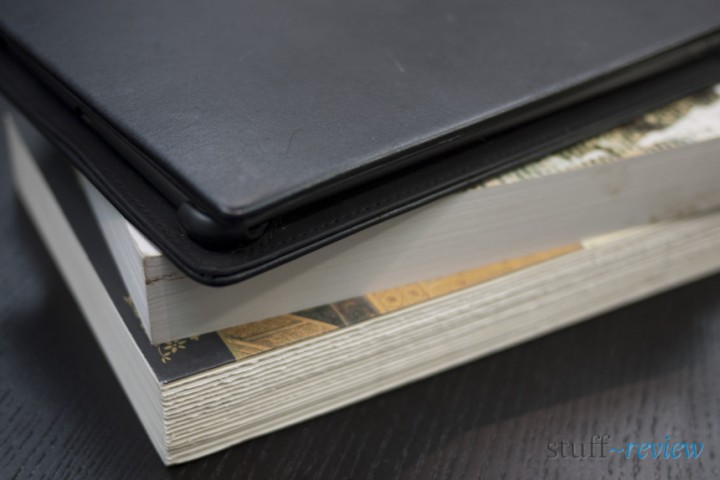 If you haven't gotten it yet or if you just skipped right to the end, the truth is we really like the Nook Color. But is this e-reader/tablet worth $249? Most definitely! We can actually say that at this price point it's a real bargain.
There is a lot to like with the Nook Color. You get a solidly built device great for reading books but also sharing them, a killer magazine reading format, books tailored for children and a host of extras such as an internet browser, a gallery and applications with more to come from Barnes & Noble. Also if you read PDF files on the go, particularly color ones, then this is definitely the device for you. We won't even get into the Nook Color's potential to be converted to a full Android tablet which unlocks even more value.
Also although the e-Ink debate is a valid one, however if you are used to reading on a computer screen the Nook Color screen is much of the same, i.e. no more tiring. We won't say however that the Nook Color is right for everyone. If what you want to do is just read books without distractions and without having to worry about battery levels just go with the Kindle which is also cheaper and lighter.
Overall we recommend the Nook Color as a well thought of device and software with polish coming soon.
Barnes & Noble NOOK Color

review score: