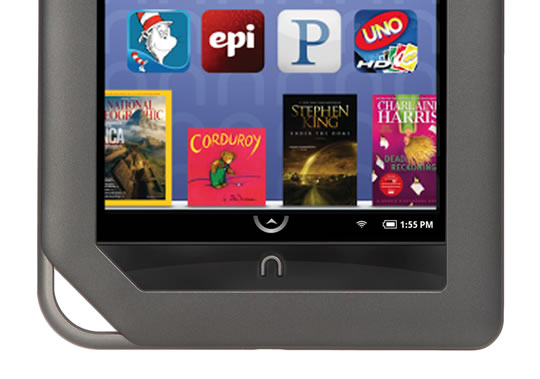 Well The long wait for Nook Color owners seems to be over. Barnes & Noble's popular e-reader has finally been updated to Android 2.2 ('Froyo') while at the same time users can for the first time install apps without having to resort to rooting their device.
When we initially reviewed the Nook Color, the update was still in the works; nonetheless we thought it had great potential as a well-designed budget Android tablet. However, the $250 device is still not getting full Android Market access, but rather its own app store with applications having to first be approved by B&N for inclusion. This means that you will not find every obscure Android app out there, actually the catalogue right now is quite limited with no Facebook app or any of the standard Google apps like Maps, but available apps should increase over time.


Importantly the experience should be more polished and speedier. There is a slide page turn animation, interactivity in some Nook Kids picture books, videos can be embedded within normal books and the browser now has Flash support. There is also an email application and a new 'Nook Friends' social media app which now concentrates the social media aspects of the reading experience, such as swapping books with LendMe and sharing recommendations or checking what your friends are reading.
The update will be rolling out during the week, so just make sure you have your device charged and connected via Wi-Fi and you should be getting the update automatically. If you can't wait–like us–you can easily update the Nook Color to the latest version 1.2 manually by heading over to this link, downloading the update and following the instructions.
We will be putting the updated Nook Color experience through its paces, so keep tuned on the website for our impressions of the, now much more capable, e-reader/tablet.
[
B&N what's new Nook Color
]