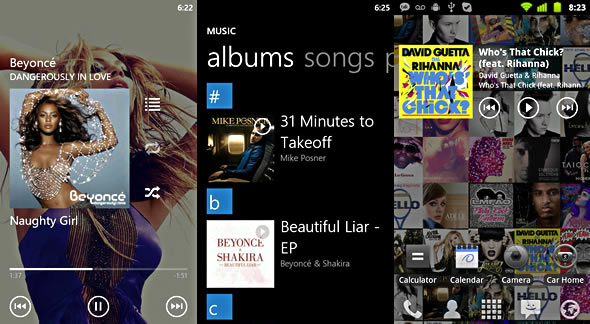 We've been covering this app, from LauncherPro developer Federico Carnale, since its humble beginnings; we've watched it quickly grow from alpha to beta and now its final built, UberMusic v1.0, has hit the Android Market.
We first fell in love with this Android music app because of its uncanny resemblance to the Zune and Windows Phone 7 music players. The app has grown however to be much more than just a copycat of Microsoft's Metro UI; UberMusic is fully customizable with a number of skins, which you can download from the Android Market. Sure enough however the Zune/WP7 look is still available as the downloadable Metro skin.

UberMusic offers six different widget sizes, automatically downloads artists' photos and displays them in the now playing screen and has a cool live wallpaper that fills the screen with your album art.
Ubermusic is currently a paid app, $3.49, though an ad-supported free version could be in the works. All the skins are free and you might want to un-install the beta before downloading this one.
[
UberMusic – Android Market
,
Metro skin – Android Market
,
Changelog
]