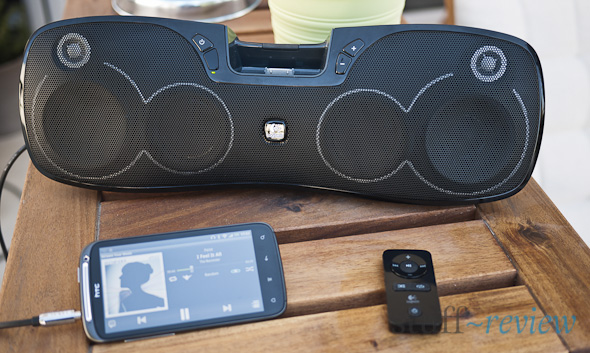 There are as many options for streaming music around the house as there are combinations of portable speakers, speaker docks, network players and portable device apps — and that's a whole lot.
Here I'm going to go over just one of these combinations, which was the result of my search for a cost efficient, convenient, and aurally pleasing way to stream and listen to my locally stored music around the house and in the garden.

We're assuming that you already own an Android (smartphone or tablet) or iOS device (iPad, iPhone and iPod Touch) and that you have a Windows or Mac PC, with your music, connected to a Wi-Fi network somewhere in the house.
The total cost of the "system" at the time of writing was $120-130, with the key components being:
Logitech S715i Rechargeable Speaker – $120
Audiogalaxy app for Android or iOS – free
Audiogalaxy Helper for Windows or Mac OS – free
Optional 3.5mm cable – $10
The speaker: Logitech S715i Rechargeable Speaker
Obviously the key component here is the speaker and it really took some time to find the ideal set of portable speakers. The key idea here was that for true portability the speakers should be battery-powered – so that you aren't tied to a power outlet and an added bonus is that you can take this anywhere, Logitech also includes a free travel pouch.
I previously owned a speaker dock which required C batteries making it rather heavy, while it was cumbersome to take the batteries out, charge them in a separate charger and then put them back in.
The S715i just plugs to the wall adapter. Batteries are said to last up to 8 hours on a single charge but, honestly, we didn't run it on battery for that long. A caveat with using the unit on battery power however is that the quality and volume of sound deteriorates, particularly the bass. So if you want the very best sound quality this unit produces, it is recommended to keep it plugged to the power brick.
The speaker has a dock for iPods and iPhones and you can connect all other devices with a standard 3.5mm cable. It also has a tiny remote with which you can turn the unit on/off, adjust the volume and even control the above Apple players.
Most important of all, sound is extremely clear and powerful, especially for the price and size. The speakers are true 3-way which means you have a dedicated tweeter, mid and bass. Overall, we think it will be hard to find equivalent at this price point.
Pros
Nice design, good build quality and great sound for the price
Built-in rechargeable battery that lasts longer than you'll need it
Light and portable
Can be connected to any source with the AUX-in port and easily docs iPods and iPhones
Couple of nice extras like the remote and the travel pouch
Cons
Sound quality and volume drops slightly on batteries
If we had to think of something more, perhaps the kick-stand could have been designed to offer more support
Software: Audiogalaxy Music app
The beauty of such a setup is that you can use any of your favorite device apps to stream music. However, here we're going to go over Audiogalaxy which is currently our streaming app of choice.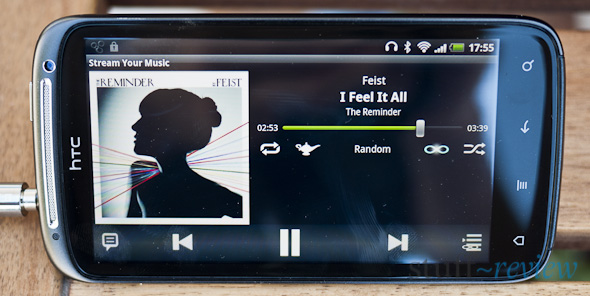 Some of you would recognize the name from its seedier past, Audiogalaxy was one of the most successful audio file sharing systems which slammed its doors in 2002. The new Audiogalaxy uses some of the same tech to quickly and effectively index and stream your locally stored music, not just in your home network but to anywhere you are in the world.
To get started, first head over to Audiogalaxy's website and register (or use you Facebook credentials), download and install the Audiogalaxy Helper software to your Windows or Mac PC. The Helper will search the locations you set and index your music — and boy is it fast. Audiogalaxy also makes your playlists, iTunes included, available to you.
Next access the Android Market or Apple's App Store and download and install the Audiogalaxy app on your device, launch, enter your login details and you're set.
Pros
It's fast, few skips while playing and consumes little resources; the Helper runs in your computer tray without you ever having to pay notice
Plays most audio files including: MP3, AAC, FLAC and OGG. Yep finally FLAC
You don't need to be on the same network as your PC, your music is accessible from anywhere in the world
The Audiogalaxy engine matches tracks with bad metadata (e.g. name, artist etc.) and displays the correct information when playing a file. It doesn't change your original files
Searchable library and can create playlists on the fly
Cons
Your music is shared over Audiogalaxy's servers to reach you anywhere in the world which is not as secure as a local area only connection
Offline playback is currently a paid add-on feature, so to enjoy your tunes for free, your computer must stay on and connected
Limited choice of playback quality, only a "High Quality Audio" yes/no option
User interface is not the most friendly, visually appealing