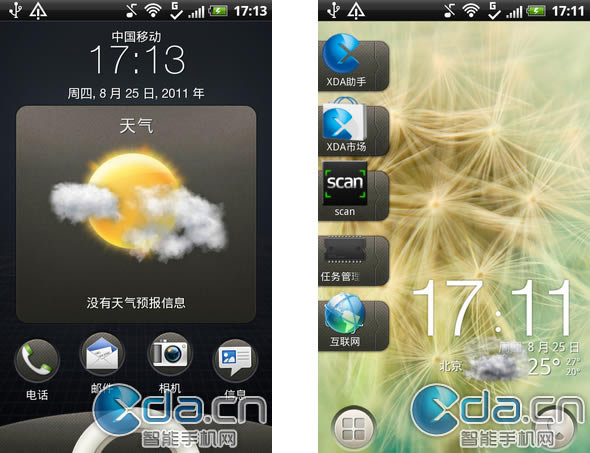 The story goes like this, XDA.cn got it's hands on the new HTC Bliss which apparently runs an updated version of HTC's UI, Sense 3.5 beta, and they have taken a number of screenshots showing it off. We love the usability of the unlock ring in Sense 3.0 — which gives you the option of quickly launching four apps of your choice — and it seems logical that Sense 3.5 would build on top of that. Some work has been done in refining and polishing icons and widgets, the weather widget seems to now cover the whole screen.

Another change from the claimed captures (top right photo) is that the bottom drawer which housed the phone, applications and personalization buttons has been replaced by two individual buttons just for phone and apps. This makes us doubt the whole leak as this seems to be a step back from the excellent execution in 3.0 (see below); although this could be an individual skin for the HTC Bliss.
The best news is that Sense 3.5 will now possibly run on older HTC phones with a single core CPU. HTC has placed a minimum dual core processor requirement for Sense 3.0, which excludes all smart phones before the HTC Sensation/EVO 3D. In any case we'll file this leak into probable/maybe/could be.
[
XDA.cn
]