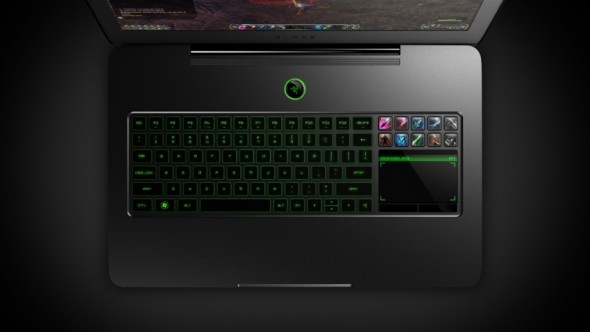 Or is it the color of envy? The envy your buddies will be feeling when you bring this laptop to your next LAN party. But we'd better take it from the top, Razer is best known for its performance computer peripherals such as gaming mice and keyboards. In fact Razer peripherals are good for any type of use and I happily own a Razer Mamba desktop mouse and an Orochi portable bluetooth mouse. Razer is also known for excessive use of neon-colored LEDs, but I guess that's the conception of what gamers want.

Well Razer is now moving up the ladder and has just introduced its first laptop to the world, coming in Q4 2011, the Blade. The 17-inch Blade has got an impressive list of specs, running a 2.8Ghz Core i7 2640M processor together with an NVIDIA GeForce GT 555M 2GB GDDR5 graphics card with Optimus technology (switches your graphics card off automatically when you don't need it to save battery), a main resolution of 1920×1080 and 8GB of RAM.
What sets it apart, is that next to the full-sized keyboard, Razer has included 10 translucent keys set over an LCD panel. Users can completely customize these keys, setting up macros or assignments and even displaying custom thumbnail art for each button. Just below the buttons is an LCD touchpad — it can be used as a multitouch touchpad or converted to a secondary display, where for example you can check gaming maps, view walk-throughs on YouTube, or for game specific uses.
Razer is also making a point, that although this is a high performance laptop, it remains relatively portable, measuring 16.81″ wide, 10.9″ deep and 0.88″ thick (thinner than a MacBook Pro) and weighing just under 7 pounds (3.17kg); something that other gaming laptops can't claim. Of course the Windows 7 based laptop is not cheap, at $2,800, and only targeted at a niche dedicated market. Razer has made sure that this laptop looks the part and it seems neon-green was the choice of the day, with the keyboard and logo all backlit in intense green.
Product Specifications:
2.8GHz Intel Core i7 2640M Processor
8GB 1333MHz DDR3 Memory
17.3″ LED Backlit Display (1920×1080)
NVIDIA GeForce GT 555M with NVIDIA Optimus Technology and 2GB Dedicated GDDR5 Video Memory
Built-in HD Webcam
Integrated 60Wh Battery
320GB 7200rpm SATA HDD
Wireless Network 802.11 b/g/n Compatible
16.81″ (Width) x 10.9″ (Depth) x 0.88″ (Height); 6.97lbs (Weight)
[
Razer Blade
]