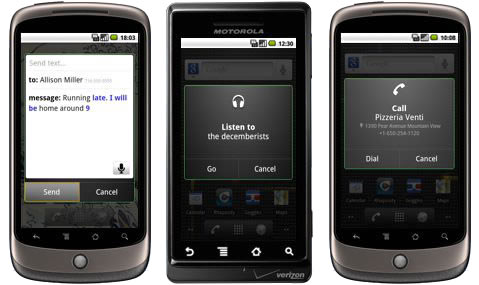 You may or may not know that you can control your Android smart phone using just you voice. Have you tried speaking to your phone yet?
Well we've compiled below a handy list of commands you can use to control certain aspects of your phone. You'll be surprised how accurate and convenient this can be. But before you start testing the commands out, first make sure you have the latest version of Google Search installed. Open the Market from your applications and search for Google Search. Either install or update if you haven't yet.
Now launch Google Voice Search, if you have the Google Search widget on your homescreen touch the microphone icon or else press and hold the Android search key (the one that looks like a magnifying glass) until the "Speak now" dialogue appears. Now speak your commands. If you are dictating text, Voice Search will present you with a closest match and highlight in blue, words it's not sure about, touch those words and you are presented with alternative matches.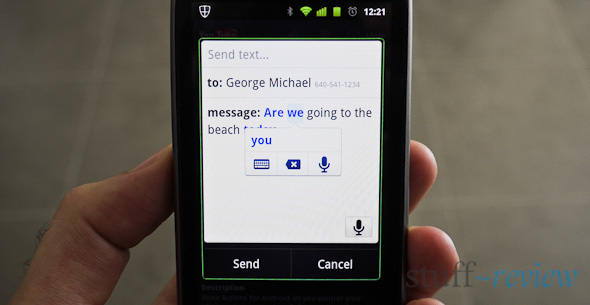 Unfortunately Voice Search is English only for now. If you are a non-native English speaker you might find that a lot of your commands go unrecognized. To improve recognition go to "Settings" , then "Voice input & output" and open "Voice recognizer settings". Press the Language drop-down box and select "English Generic". Now you are set.
Speak any of the following commands to perform a Voice Action on your phone, remember, to launch Google Voice actions press the search button for a few seconds until the "Speak now" dialogue appears or if you have the Search widget on your homescreen touch the microphone icon:
What to say
+ optionally
What it does
Examples
Any series of search keywords
Same as typing a search query on Google
"Nook Color review"
Calling
"Call" + any name in your address book
"home", "mobile" or "work"
Dials your contact or prompts you to choose from your contacts
"Call George Michael, mobile"
"Call" + business name
If you have location services enabled, it will look for a business matching that name close to your location and dial it
"Call Blue Island restaurant"
"Call" + phone number
Calls a dictated phone number
"Call 650 253 0000"
Any name in your address book
Opens that contact sheet from your address book
"George Michael"
Messaging
"Send SMS" or "Send Text"
"To" + names of contacts
"Message" + your message (say any punctuation such as comma or exclamation  mark)
Creates a new text message and populates it with contact details and message if spoken
"Send text to Marina Ronaldi, message, I've booked the restaurant for 8pm comma see you there period"
"Send email"
"To" + names of contacts
"Cc" + names of contacts
"Bcc" + names of contacts
"Subject" + subject
"Message" + your message (say any punctuation such as comma or exclamation  mark)
Opens Gmail and creates an email with the information you have provided
"Send email to John Doll, subject, Meeting today, message, It was a pleasure meeting with you period We will consider your offer and get back to you ASAP period"
Maps and navigation
"Map of" + contact name, address, business name, location, landmark, city
Opens Maps and centers it to the matching place
"Map of Seville, Spain."
"Directions to" + contact name, address, business name, location, landmark, city
Opens Maps and shows directions to matching destination from your current location
"Directions to Avenida de Kansas City, 123, Seville, Spain"
"Navigate to" + contact name, address, business name, location, landmark, city
Opens Navigation for spoken turn-by-turn directions to matching destination from your current location
"Navigate to Palacio de Viana, Cordova."
Other
"Go to" + website name or URL
Launches the browser and goes to the spoken website.
"Go to Stuff-Review.com"
"Note to self"
Your spoken note
Opens Gmail message with you as the recipient and includes both a transcript of your note but also a voice recording
"Note to self, I should read the Magic Mountain by Thomas Mann"
"Set alarm"
"for" + time

"Label" + name for the alarm

Clock opens, prompting you to confirm the details before setting the alarm.
"Set alarm for 8:15am" or "Set alarm for 40 minutes from now, label, oven"
"Listen to" + artist, album, name of song
Opens supported application such as Pandora, Last.fm, Rdio or mSpot
"Listen to, Bob Dylan"