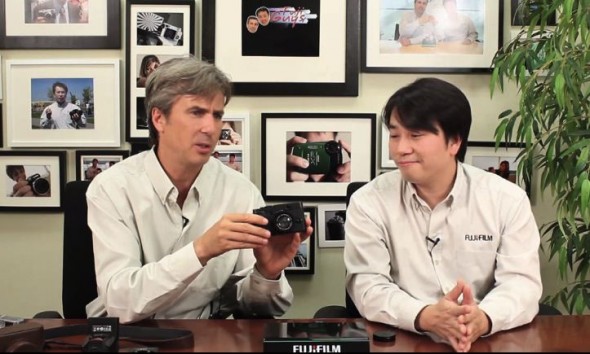 The "Fuji Guys", a.k.a. Billy and Greg from Fujifilm Canada, have posted a video demonstrating the new FinePix X10. There is a lot of marketing hype in the video, but you get to spend 16 minutes learning about every aspect of the new high-end point-and-shoot camera.
We've made particular note of:
Standard optical viewfinder, no information overlay.
High precision 4x manual zoom using a metal cam-driven mechanism. Twist lens zoom ring to turn the camera on. Optical image stabilisation.
7 blade aperture system but no built-in ND filter.
1cm macro.
Magnesium alloy construction and metal lens cap like the X100.
Software and buttons similar to the X100 with some improvements, mode dial instead of shutter speed dial. Fuji has kept the dedicated 'Raw' button… why?
1080p video 30fps.
Video is after the break for your enjoyment.