Nikon has finally revealed its duo of mirrorless interchangeable lens cameras, the V1 and J1. We can't say that the world has been holding its breath for this, as there are already a lot of good choices when it comes to MILCs, but lets take it back from the beginning.
First is the introduction of a new CX sensor/mount (against Nikon's already existing DX and FX sensors). The CX sensor measures 13.2mm x 8.8mm leading to a 2.7x crop factor; the sensor is smaller than the already established Micro Four Thirds 17.3 x 13.0mm (2.0x crop factor) and Sony's E-mount 23.5mm x 15.6mm (1.5x) sensors. The smaller sensor size is a bit underwhelming, as the Nikon cameras would potentially have worse low-light performance than what's currently on offer, but would allow Nikon to keep lenses and overall system size smaller than competitors. Although Panasonic holds the reins with its new power zoom Lumix G X 14-42mm.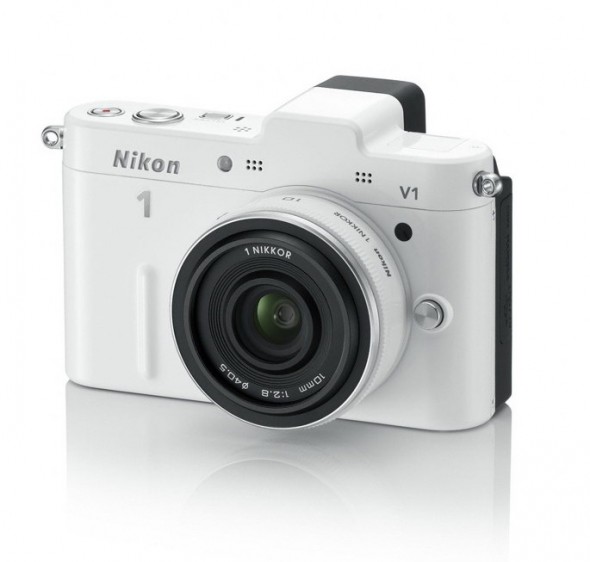 The two Nikon '1 Series' cameras feature similar specs, with the CX CMOS sensors packing 10.1-megapixels. The cameras have 3-inch LCDs and are capable of 1080p30 HD video and RAW images up to ISO 3,200. An EXPEED 3 processor will be capable of up to 10fps. But here is the interesting part, both cameras feature a hybrid phase and contrast detection auto-focus, with 73 phase AF points and 135 contrast AF areas; Nikon is calling it the "world's fastest auto-focus". Other MILCs only offer 'slower' contrast AF, so this is one area where Nikon is moving ahead of the competition.
The Nikon V1 is the higher-end option, with a 921k dot screen (compared to the J1's 460k dots), a built-in 0.47-inch 1.44 million dot electronic viewfinder, wrapping everything in a magnesium alloy body. The Nikon V1 will sell for around $900 (£830/€960 in Europe) while the J1 will be yours for $650 (£550/€640), both as a kit with the 10-30mm f/3.5-5.6 lens — a 10mm f/2.8 kit will also be offered for a slight premium. Both cameras will be available in the US starting October 20th.
A new system wouldn't go anywhere without a series of lenses, and Nikon is introducing four CX lenses: a 10-30mm f/3.5-5.6 (kit lens), 30-110mm f/3.8-5.6 ($249.95), 10mm f/2.8 ($249.95) and a 10-100mm f/4.5-5.6 ($749.95). Nikon will also introduce an F-mount adapter, a Speedlight flash and an external GPS unit.
The V1 and J1 are going against very heavy competition from Panasonic, Olympus and Sony as the current leaders. It's obvious that Nikon is betting on speed and portability rather than image quality. Though it remains to be seen how the new duo will perform.
[
Nikon USA press release
,
Nikon 1 system
]