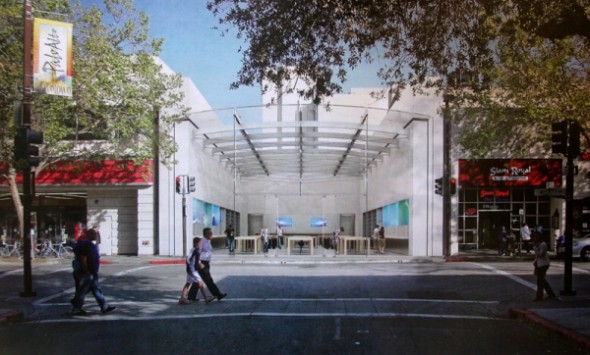 Apple is set to begin construction on a new prototype store in Palo Alto, California. The $3.15 millon, two-story, 15,050-square-foot store will have a curved glass roof, like New York's Upper West Side store (see below) and a unique design as Apple will increasingly design retail spaces to match their location and environment.
The new Palo Alto store is only a block away from one of Apple's first retail stores, built over a decade ago. The current Palo Alto store is extremely popular and the late Steve Jobs, who was a Palo Alto resident, used to visit it regularly.

Apple is working with Bohlin Cywinski Jackson architects, who've designed a number of other Apple Stores, including the Upper West Side store and iconic stores in Covent Garden (London), Ginza (Tokyo), Fifth Avenue and more. The goal of the new store is to become a meeting place for the vibrant Palo Alto community with natural light flooding the main retail space through the glass roof.
Apple's official statement:
Our Palo Alto store was one of our first retail stores when we opened it nearly a decade ago and it's been incredibly popular.

We are planning a beautiful new store just a few steps away, building on everything we've learned from our customers in Palo Alto and around the world.
[via
Cult of Mac
, Marc van der Chijs on
flickr
,
Bohlin Cywinski Jackson
architects]