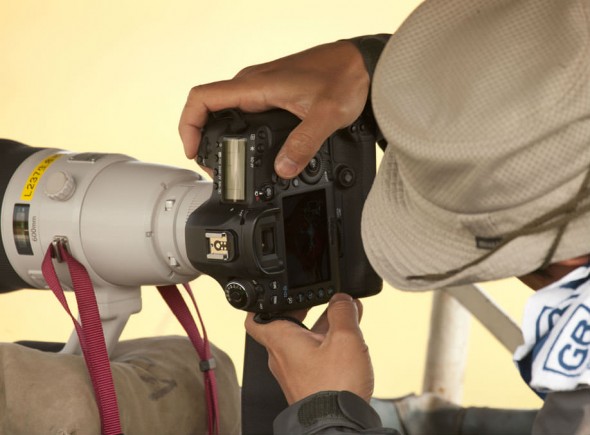 Where do you go when you have a still unannounced camera and some shiny big new lenses to try out? Apparently on an African safari. A Japanese Canon employee was spotted by photographer Stephen Oachs testing some new camera gear in Kenya Africa. Thankfully the spotter had his own DSLR with him and snapped a couple of pictures of the yet unidentified Canon camera body.
The spotted DSLR could be the new 5D Mark III or even a 7D Mark II. The captured camera has some of the looks of the 7D, with a more streamlined and modern button layout, however the lack of a pop-up flash points to the former as being more likely.

Whichever camera this might be, it's not a model that has been leaked or rumored before and it bears a number of unique features. First of all the aspect ratio of the LCD screen appears to be wider than 4:3, perhaps 16:9? There is a also thumb-stick on the battery grip and a new button arrangement we've never seen before.
The camera was paired with new Canon 200-400mm and Canon 600mm monster prototype lenses. Here is a close up photo of the top of the camera (more photos can be found at the source link below):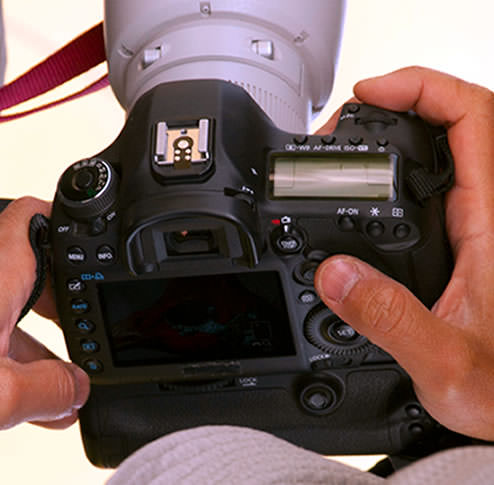 [via
Aperture Academy
]