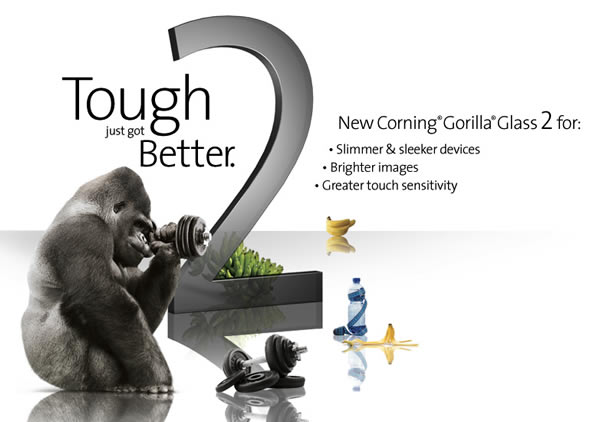 It seems that we guessed this one right. Corning has officially announced the new generation of its popular damage-resistant glass. Gorilla Glass 2 has the same scratch and impact resistance as its predecessor despite being 20% thinner.
With thinner cover glass, devices don't have any excuse for not shedding their holiday fat. So, you can expect slimmer devices and more variety in terms of designs and form factors — maybe we'll now see more curved screens with Gorilla Glass protection. Also, because the screen will now be closer to your fingers, you will be getting a better touch experience, and better optical performance. If manufacturers choose to optically laminate the screen (i.e. iPhone), the screen will truly seem like it is floating at the edge of the device.

I'm hoping that soon we'll be able to truly enjoy our slim case-free devices without the fear of shattering their screens into pieces.
Official press release:
Corning Unveils New Gorilla Glass 2

With new glass composition, tough gets better – with device performance benefits for sophisticated user experiences

CORNING, N.Y., January 9, 2012 – Corning Incorporated (NYSE: GLW) introduces Corning Gorilla Glass 2, the next generation of the company's widely accepted, damage-resistant cover glass for consumer electronic devices, at the International Consumer Electronics Show in Las Vegas this week. The outstanding performance benefits of this new glass will be showcased through live demonstrations in the Corning booth, #12642 Central Hall, during show hours tomorrow, Jan. 10, through Friday, Jan. 13.

Corning Gorilla Glass 2 enables up to a 20 percent reduction in glass thickness, while maintaining the industry-leading damage resistance, toughness, and scratch resistance customers have come to expect from the world's most widely deployed cover glass. The thinner Gorilla Glass 2 enables slimmer and sleeker devices, brighter images, and greater touch sensitivity. These benefits can provide electronics manufacturers with superior design flexibility as they address consumer demand for increasingly high-performing, touch-sensitive, and durable mobile devices.

"Corning Gorilla Glass has enjoyed tremendous market adoption in the high-growth mobile handset and computing device market, providing a replacement for plastic and legacy soda-lime glass as a protective cover and elegant design solution," saidJames R. Steiner, senior vice president and general manager, Corning Specialty Materials.

"We knew Corning Gorilla Glass could get even better. So, in response to our customers' drive toward thinner form factors, we designed this new glass to enable meaningful reduction in thickness without sacrificing the outstanding glass performance for which Gorilla Glass has become highly recognized. This glass, along with Windows operating system innovations from Microsoft, will help deliver exceptional beauty, performance, and toughness for new Windows PCs. You will see this early this year with Windows-based PCs which we expect to be the first in-market laptops designed to leverage the performance of our new second-generation glass," Steiner remarked.

"We're very excited about the introduction of Corning's thin, high-performing Gorilla Glass 2," said Nick Parker, vice president, Worldwide OEM Marketing, Microsoft. "As Windows continues to bring new experiences to customers on new devices, we look to Corning to bring innovative, durable glass solutions that enable brighter images and greater touch sensitivity."

Product qualification and design implementation for Corning Gorilla Glass 2 are underway with Corning's global customers, a number of whom are expected to unveil new devices using Corning Gorilla Glass 2 during the coming months.

First introduced in 2007, Corning Gorilla Glass set the industry standard for damage-resistant cover glass. Today it is the most widely deployed cover glass, used by more than 30 major brands and designed into more than 575 product models, spanning more than 500 million units worldwide.

As one of the company's fastest growing businesses, Corning Gorilla Glass is expected to reach more than $700 million in 2011 sales, nearly triple 2010 results.