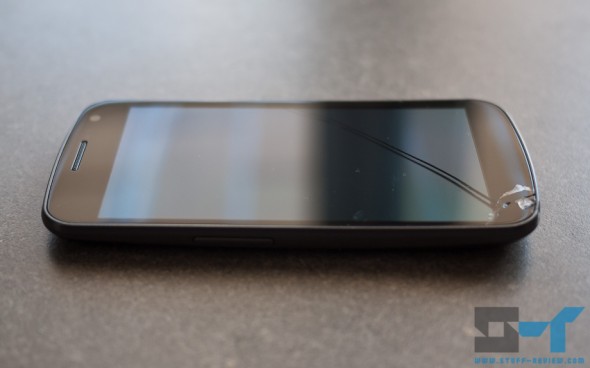 This is a quote from our recent review of the Samsung Galaxy Nexus: A large glass front, plastic body, limited ruggedization and slippery sides could spell out disaster without a case.
Well, during the holidays I was juggling one too many things and my naked (sin-case) Galaxy Nexus slipped out of my hand and landed on a hard floor from a height of about two feet. Its back cover and battery went flying off, but since the fall wasn't too bad I picked it up without thinking that anything seriously bad happened to it. As I went to wipe the screen on my shirt I saw the long crack across it, while a piece of glass had chipped from the bottom corner where the phone had landed.
Obviously manufacturers don't design average devices to survive drops, that's why rugged smartphones exist. The Galaxy Nexus has a fortified glass screen, but that's to protect it from scratches, obviously glass can still shatter, and the bigger the surface the easier it is to crack — though we are hopping the new Gorilla Glass 2 material will be more shatter-proof.
Nevertheless this isn't the first smartphone I've dropped; I'm actually a serial phone-dropper. My long-term Android smartphones have been a Nexus One and an HTC Sensation, both of which have suffered some pretty nasty falls (without a case) and both have so far survived pretty well.

From the first time I picked up the Galaxy Nexus it donned to me how prone to accidents it can be: because of its size and slippery sides you don't have a good grip on it; the entire front is made of glass while the rim around it is just plastic. Well, in hindsight, I should have followed my own advice and picked up a case for it immediately, which I will as soon as the replacement comes in — thankfully it was insured.
More painful photos below.