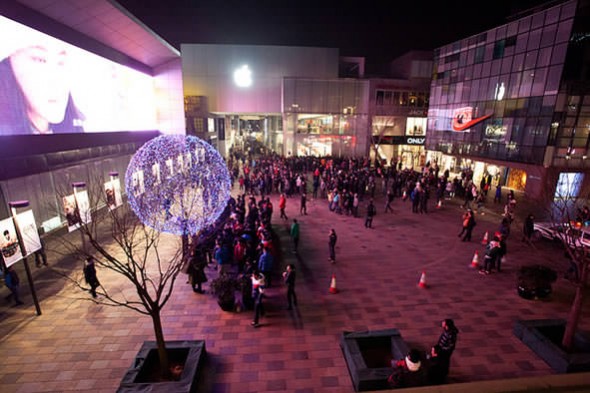 China is quickly becoming a very important market for Apple. The most populous country in the world has a burgeoning middle-class hungry for technology and of course Apple is carving out a nice piece of the pie for itself. In fact, China contributed to roughly 13.3 percent of Apple's third-quarter revenue.
Friday 13th of January marks the day when the iPhone 4S goes on sale in 26 new countries, including China. Well as is typical of big Apple product launches, people had already started lining up the night before outside Apple's two Beijing and three Shanghai stores. Despite the freezing temperatures, hundreds lined-up outside the five official Apple Stores.

China Unicom, which is the only mobile carrier to offer the iPhone, announced that it will be offering the iPhone 4S online starting at 12:01am under contract. Obviously the crowds hitting the streets however are after the sim-free off-contract version of the iPhone 4S, which starts at around 5,000 yuan ($790).
Chinese speaking iPhone 4S buyers won't be able to enjoy one of the device's key new features, Siri, as it currently only supports English, French and German. However, Apple has announced that additional languages, including Chinese, will be added during 2012.
UPDATE: It seems that things got ugly outside Apple's main store in Beijing before the official 7am opening time, with a number of peddlers too anxious to get their hands on the iPhone 4S. Apple was forced to postpone the launch of the iPhone 4S through its stores. The official word from Apple: Unfortunately, we were unable to open our store at Sanlitun due to the large crowd, and to ensure the safety of our customers and employees, iPhone will not available in our retail stores in Beijing and Shanghai for the time being.
[Image courtesy of Liz Phung]