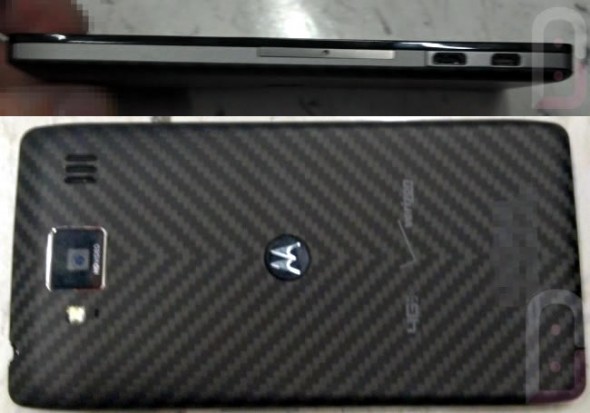 The upcoming Motorola Droid RAZR HD hasn't really been kept a secret. The Verizon-bound handset has received several earlier leaks but this latest one is the most comprehensive yet.
The successor to the extremely popular Droid RAZR and Droid RAZR MAXX maintains some of its siblings' looks, as you can see from the leaked photos above. The back cover has the familiar Kevlar pattern, though it now extends across the back of the device. Gone is the hump of the previous generation and the rear camera is now centered at the top of the device.
Motorola had touted the thinness of the original Droid RAZR when it was released, though later traded some of it for an extended 3,300 mAh in the RAZR MAXX. We loved the full day battery and so did many of you. Well, as you can see from the images, Motorola isn't making the same mistake again, and the Droid RAZR HD seems to slide between the RAZR and the RAZR MAXX in terms of thinness. Thus we can assume that inside we still might find a beefy battery.

In terms of specs, the RAZR HD is said to be packing a 1.5GHz dual-core Snapdragon S4 SoC and a large display with a 720p resolution; the RAZR certainly lacked in the display department and the tipster claims the new screen is amazing. The rear camera is said to be of the 13-megapixel variety and capable of HD video as well. Of course the smartphone will be running Android 4.0 Ice Cream Sandwich
The Verizon iteration will surely come with 4G LTE connectivity, with the familiar logo on the back of the device. If you are with AT&T keep in mind that a pretty identical device has also just been leaked, the Atrix 3.
No details on availability though you might be looking at a late summer release.
[via
DroidLife
]