September 28, 2011 at 4:33 pm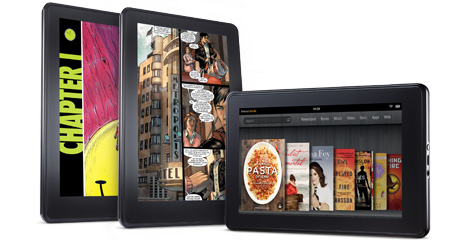 So, it´s here; Amazon has officially entered the tablet wars with a bang. Jeff Bezos announced today Amazon's 7-inch tablet, which will be priced even lower than what was initially expected. The Kindle Fire, can be pre-ordered now for $199, $50 less than the Nook Color and less than half the price of most other Android tablets and the iPad 2.
Despite the price however, the Kindle Fire, is a solid device, if not a bit barebones. A 7-inch IPS display with a 1024 x 600 resolution, dominates the front, featuring Gorilla Glass protection. The Fire runs a TI OMAP4 dual-core processor (but no specifics on speed), it also has 8GB of built-in storage and the battery is advertised to last for eight hours of reading or 7.5 hours of video playback. As rumored, the device is very similar in design to the BlackBerry Playbook, measuring 7.5 x 4.7 x 0.45 inches (190 x 120 x 11.5mm) and weighing 14.6 ounces (413g).
There is no camera, no microphone, no GPS, no Bluetooth and no card reader. The Kindle Fire only has a 3.5mm headphone jack, a charge port and a pair of stereo speakers. The back is rubberized, like the Nook Color and the Playbook.
continue reading