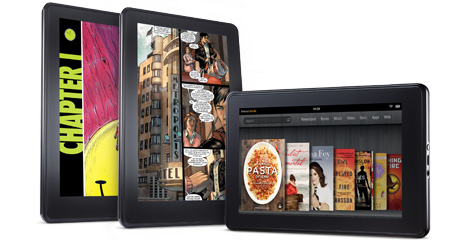 So, it´s here; Amazon has officially entered the tablet wars with a bang. Jeff Bezos announced today Amazon's 7-inch tablet, which will be priced even lower than what was initially expected. The Kindle Fire, can be pre-ordered now for $199, $50 less than the Nook Color and less than half the price of most other Android tablets and the iPad 2.
Despite the price however, the Kindle Fire, is a solid device, if not a bit barebones. A 7-inch IPS display with a 1024 x 600 resolution, dominates the front, featuring Gorilla Glass protection. The Fire runs a TI OMAP4 dual-core processor (but no specifics on speed), it also has 8GB of built-in storage and the battery is advertised to last for eight hours of reading or 7.5 hours of video playback. As rumored, the device is very similar in design to the BlackBerry Playbook, measuring 7.5 x 4.7 x 0.45 inches (190 x 120 x 11.5mm) and weighing 14.6 ounces (413g).
There is no camera, no microphone, no GPS, no Bluetooth and no card reader. The Kindle Fire only has a 3.5mm headphone jack, a charge port and a pair of stereo speakers. The back is rubberized, like the Nook Color and the Playbook.

Now, what makes the Fire special is its integration with Amazon's services and the cloud. The device runs Android 2.*, but Amazon has completely customized the experience. Tablets are content consumption devices, and the Fire is built for that. Tying to Amazon's large Kindle book library, its music and video offerings and its own Android app store, means that from day one, owners will have a huge selection of content to choose from.
Although the Fire has 8GB of on-board storage, Amazon has envisioned it as a cloud device (with unlimited cloud storage for Amazon bought content), and here is where the fun part starts. Similar to other Kindles, the Fire uses Amazon's Whispersync technology to sync your library, video etc. with the tablet and all your devices. So you can start reading a book on your computer and seamlessly continue on the Fire (or any other Kindle device).
Amazon is also putting its cloud brawn to work, understanding that on a tablet you have limited processing power and perhaps connection speed, the Fire comes loaded with a new web browser called Amazon Silk. When you try to access a page, the work needed in order to render the page is shared between the device and Amazon's cloud servers. Amazon has also included a number of other smart optimization techniques to make sure that web pages load fast even on slow connections and that the Fire doesn't get bogged down by heavy websites.
So, what is our take on this? Well, Amazon has a huge online retail presence, and it will sure be able to move a lot of Kindle Fires, based on the price and the content offering. Is it a direct threat to the iPad? Well, mostly no, it's not as capable as the iPad, for sure; I would say that this is the tablet for those who don't really need an iPad and don't have the money to spare. It is definitely a direct threat to the Nook Color and other Android tablets. The NC can get slow at times and apps offered are few while Android tablets will find it hard to compete at this price and their content offering remains poor. But as we've said before, we'll be waiting so see on what Ice Cream Sandwich and perhaps a Nook Color 2 will be able to offer.
[
Amazon
]