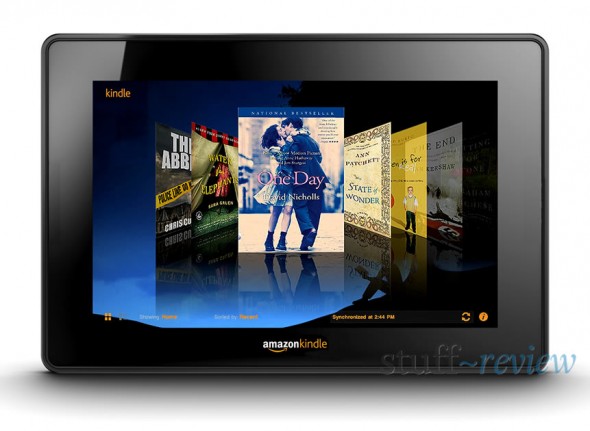 There has been a lot of noise around the internet, over the past few weeks, about an upcoming Amazon tablet which will be competitively priced and supposed to finally give the iPad some much-needed competition. TechCrunch's Siegler blogged yesterday that he has seen and handled the device, which will be a 7-inch tablet simply named Amazon Kindle, but unlike Amazon's other Kindle devices this one will feature a normal, rather than E-Ink, color touch-screen.
It will run a very customized version of Android with a user interface similar to what we are used to from Amazon, dark, blue with bunches of orange. Content, such as books, movies and apps is presented in a carousel format, à la iTunes Cover Flow.
The device is said to have a form factor similar to the BlackBerry PlayBook but no cameras whatsoever and no physical buttons on the front. The back has a rubber feel and the speakers are on the top of the Kindle tablet, if you are holding it in landscape mode, and the power button at the bottom. Based on the information provided, we've made a quick mock-up (see above) of what the Amazon Kindle tablet could look like.
The 7-inch tablet is said to retail for $250 and Amazon is targeting November for launch, while it's ironing out the software side.
So here is what we know:

Hardware
Color 7-inch multi-touch screen (not full ten fingers touch recognition though).
No cameras.
More cloud oriented with limited internal storage, around 6GB.
All black design and rubberized back, like the BlackBerry PlayBook and the Nook Color.
Speakers on the top and power button at the bottom when held in landscape mode.
Software
Built on top of Android but fully customized with deep integration to Amazon services.
Book reader application similar to the Android and iOS Kindle apps.
Carousel interface for your content, books, apps, music, similar to iTunes Cover Flow.
Music application is the Amazon Cloud player.
Video app is Amazon Instant Video player.
App store is Amazon's Android Appstore.
Does all this remind you of something, why yes, it sounds very much like Barnes & Noble's Nook Color. And although it is pegged as a direct iPad competitor, we think that it's really going to go head-to-head with the Nook. The Nook Color is also a book-centric 7-inch color touchscreen device with a custom Android experience and a custom app store, selling for $250.
What could give Amazon an advantage is that it has a huge online presence and will be able to really push the Kindle tablet. This device is currently said to offer Wi-Fi only but what if Amazon includes Whispernet, its always on 3G cellular data service, that would truly make this a cloud device and give it another leg up. It also remains to be seen how hackable this thing will be, i.e. in turning it into a fully fledged, Honeycomb or even Ice Cream Sandwich Android tablet. As we know the Nook Color is one of the most hackable devices out there.
On the other hand B&N is also said to be prepping a new Nook Color "2", while unlike Amazon it also has the advantage of a brick-and-mortar presence. So, there is a lot that remains to be seen; what this will not be however is a win of Android over iPad. After all, this will not run Google's Android Market, it will be another rebel in the Android camp.
[
TechCrunch
]