September 10, 2012 at 4:18 pm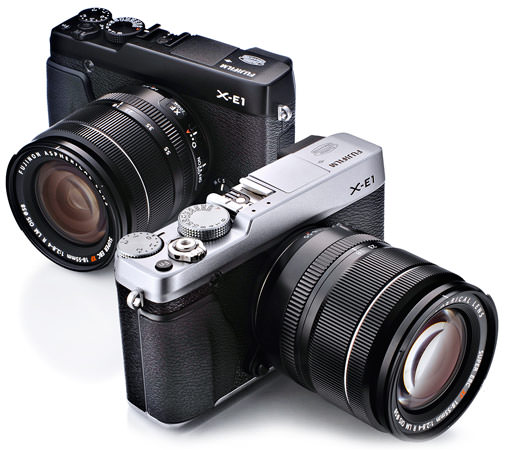 As expected, the Fujifilm X-E1 mirrorless interchangeable lens camera (MILC) was announced last week. It is a cheaper and more compact version of the X-Pro1, with the same excellent APS-C X-Trans CMOS sensor, sans any anti-aliasing filter, but missing the innovative hybrid optical/electronic viewfinder.
Instead, the X-E1 features a 2.36-million dot OLED electronic viewfinder, and you really can't get much better than that. It is the same resolution as the Sony OLED EVF we were so excited about in the Sony NEX-7, A65 and A77, and we bet this is Sony-made too, though it's rumored to be an updated version with better contrast. The X-E1 also gets a slightly smaller, 2.8-inch, and lower resolution, 460k dots, screen than the X-Pro1, to keep costs under control.
One of the main criticisms against the X-Pro1 and X100 (which we thoroughly reviewed here) was the slow autofocus and operating speed. Fujifilm is a company that listens, and claims the X-E1 can now focus in 0.1 seconds with the new Fujinon XF 18-55 F2.8-4 R LM OIS zoom lens which we was part of Fuji's 2012-13 lens roadmap for the system. The camera also features a 0.05 second shutter lag, 0.5 second quick start (you can see our startup test of the X100 here) and 6 frames per second burst shooting.
continue reading