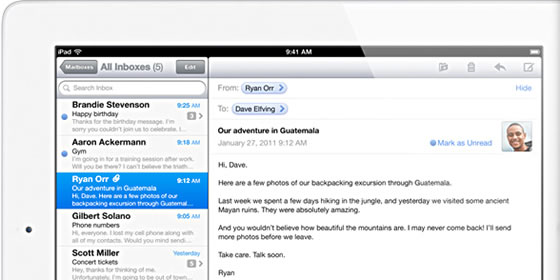 So you were already sporting the original iPad but you just had to have the latest and greatest, so you already picked up the iPad 2. Now you want to have all your data and settings copied over to your new iPad 2 so you can just continue where you left off.
Transferring your data is actually a pretty simple process and should take you only a few minutes, depending on the amount of information you have. Just follow this simple guide and you should have your iPad 2 all setup:

Connect your original iPad to your Windows or Mac PC using the 30-pin connector cable, if iTunes doesn't start automatically then launch it manually.
Your iPad will now show in the list of 'Devices'. If your iPad is setup to sync with your computer then a backup will be created automatically. However if your iPad doesn't automatically sync then right-click (or control-click) on it and select 'Back Up'. Please wait until the process has ended and the iPad is no longer syncing.
Now disconnect the original iPad and connect your new iPad 2. After a few selections you will be presented with the choice to either 'Set up as a new iPad' or to 'Restore from the backup of'. Select the latter and make sure you select the latest backup we've just created (check name, date and time) and click continue. This will restore your settings.

Note if you had already setup the iPad 2 as new but now want copy over your settings follow the above instructions and when you connect the iPad 2, right-click (or control-click) on it in devices and select 'Restore from Backup'.

The iPad 2 will now reboot and once it's back on, iTunes will start syncing and copying your data, applications and games (please check your sync settings under each tab i.e. games, videos, music etc. if not all your data is getting copied). Once the iPad 2 has finished syncing, disconnect and you are good to go.
Before erasing data or resetting your original iPad make sure that everything has been copied over! We wish you enjoy your new iPad and give us a shot of your experiences in the comments.