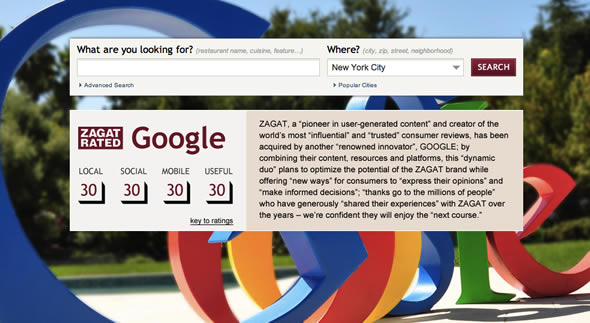 Zagat is best known for its pocket-sized, burgundy colored, restaurant guidebooks offering reviews and recommendation based on the feedback from 350,000 surveyors around the world. Zagat also operates a website sharing the same crowd-sourced expertise. Today Google and Zagat Survey announced the acquisition of the latter and its inclusion in Google's growing family.
Although the move is unexpected, it does make a lot of sense; Google needs the expertise and trusted opinions for its Maps/Places products and Zagat needs the traffic that Google can provide. I've used both Zagat printed guidebooks and its website and I've found the reviews to be mostly on the ball. I also love the convenience of discovering new restaurants and cafes on my smartphone using Google Places but honestly the reviews are hit-or-miss.
Zagat was founded in 1979 by Tim and Nina Zagat as a sort of social experiment, and now the company's 30 point scale ratings include restaurants from around 100 countries. The terms of the deal with Google haven't been disclosed.

Google's Marissa Mayer, VP, Local, Maps and Location Services wrote:
"Did you know there's a place in Menlo Park near the Safeway that has a 27 food rating?" one of my friends asked me that about two years ago, and I was struck because I immediately knew what it meant. Food rating… 30 point scale… Zagat. And the place… had to be good. With no other context, I instantly recognized and trusted Zagat's review and recommendation.

So, today, I'm thrilled that Google has acquired Zagat. Moving forward, Zagat will be a cornerstone of our local offering—delighting people with their impressive array of reviews, ratings and insights, while enabling people everywhere to find extraordinary (and ordinary) experiences around the corner and around the world.

With Zagat, we gain a world-class team that has more experience in consumer based-surveys, recommendations and reviews than anyone else in the industry. Founded by Tim and Nina Zagat more than 32 years ago, Zagat has established a trusted and well-loved brand the world over, operating in 13 categories and more than 100 cities. The Zagats have demonstrated their ability to innovate and to do so with tremendous insight. Their surveys may be one of the earliest forms of UGC (user-generated content)—gathering restaurant recommendations from friends, computing and distributing ratings before the Internet as we know it today even existed. Their iconic pocket-sized guides with paragraphs summarizing and "snippeting" sentiment were "mobile" before "mobile" involved electronics. Today, Zagat provides people with a democratized, authentic and comprehensive view of where to eat, drink, stay, shop and play worldwide based on millions of reviews and ratings.

For all of these reasons, I'm incredibly excited to collaborate with Zagat to bring the power of Google search and Google Maps to their products and users, and to bring their innovation, trusted reputation and wealth of experience to our users.

(BTW, Kaygetsu, the place in Menlo Park, definitely lives up to its 27 food rating!)
While this was posted on Zagat's website:
We are writing to share the most exciting news in our 32 years in business. Zagat Survey has been acquired by another great company, Google.

From the beginning, Zagat Survey has empowered people by providing a vehicle for them to express their opinions. After spending time with Google senior management discussing our mutual goals, we know they share our belief in user-generated content and our commitment to accuracy and fairness in providing users with the information needed to make smart decisions about where to eat, shop and travel.

It is a testament to the knowledgeable consumers who contribute their opinions that Zagat Survey has become an internationally respected symbol of quality. Their experiences, distilled into numerical ratings and concise, witty, quote-filled reviews, will continue to provide accurate guidance for a wide range of leisure activities.

These achievements result from the passion and hard work of our talented team. We believe this union is the right next step for our employees, our users and for our business, all of which will benefit from the additional resources and reach that Google provides. Going forward, we will remain active in the business as co-Chairs, helping to ensure that the combination of Zagat's and Google's assets and capabilities will maximize our product quality and growth.

Google delivers the most relevant and high-quality information, and it's the perfect home for our content.

We are thrilled to see our baby placed in such good hands and to start today as official "Googlers."

Nina and Tim Zagat
[
Zagat
,
Google Blog
]