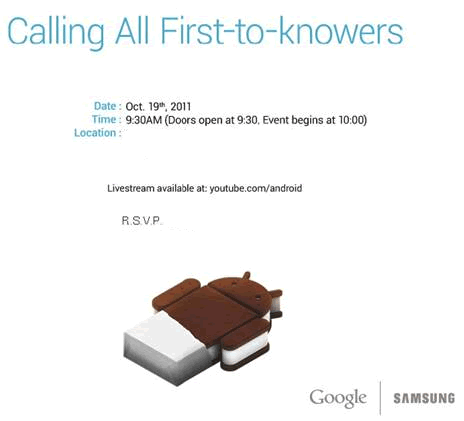 The original event on October 11th was cancelled, which certainly created a lot of disappointment and anxiety to all those who can't wait to get the official word on Google's latest and greatest Android release, Android 4.0, code-named Ice Cream Sandwich.
Google and Samsung have just sent invites to a joint event to take place in Hong Kong on October 19 (October 18 in the US).
As with all previous big Android releases, we're expecting a new Nexus device to be the first to carry the new operating system, and well, Samsung is the lucky manufacturer this time around. The Nexus Prime (or Galaxy Nexus) is expected to be a killer device, with a 4.65-inch Super AMOLED display sporting an HD 1280×720 resolution.
You can get a good look of both the Nexus Prime and Ice Cream Sandwich right here.
On the launch day, you will be able to get a taste of Ice Cream Sandwich directly from Google as the event will be streaming live at youtube.com/android. The event starts at 10am HKT, 3am London time on the 19th, and 10pm on the 18th EST.