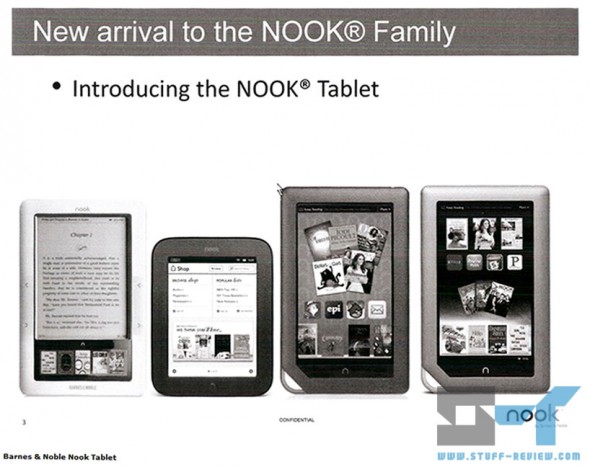 So, remember the event that Barnes & Noble has scheduled for this coming Monday the 7th? Remember, when we were talking about a Nook Color successor to take on the Amazon Kindle Fire? Well, information on B&N's new tablet/e-Reader has leaked ahead of the event, and we have it here for you.
The new device from B&N will simply be called the 'Nook Tablet'. As you can see, it's very similar in appearance to the Nook Color; but what you can't see is that it's thinner, at 0.48 inches (from 0.5 inches for the NC) and lighter at 14.1 oz (from 15.8 ounces). The Nook Tablet is getting a much needed processor upgrade, with a new 1.2GHz dual-core OMAP 4 processor, 1GB of RAM (double that of the Kindle Fire) and 16GB of built-in storage (again double the Fire's capacity). You will be able to expand storage through the microSD card slot, something the Fire is missing.

The screen is the same 7-inch VividView IPS 1024×600 resolution as the Nook Color. The Nook Tablet's full dimensions are 8.1x5x0.48-inches, battery should last for around eight hours while it offers support for ePUB, PDF, XLS, DOC, PPT, TXT, DOCM, Flash, JPG, MP3, MP4 and AAC files.
The Nook Tablet will be priced at $249, against the Kindle Fire's $199, with B&N apparently betting on the more advanced specs for the higher pricing. The Nook Tablet will be available for pre-order on the 7th, with demo units arriving in stores on the 15th and going on sale on the 16th of November. Be sure to check out our full comparison of the Nook Tablet vs. the Kindle Fire.