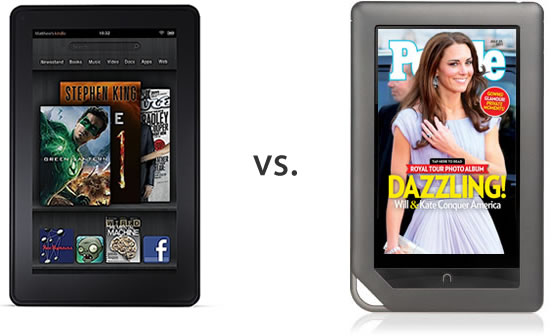 It's no secret that the upcoming Amazon Kindle Fire tablet has B&N's Nook Color (NC) in its sights. The two have a lot in common, both have books and magazines deeply embedded in their DNA and both run a very customized Android experience, they are also two of the cheapest 7-inch Android tablet offerings out there. It might not be completely fair to compare the two though, as the Nook Color is a year older, but until B&N comes out with a Nook Color 2, it remains the Kindle Fire's main competitor.
The Fire wins in terms of processing power and initial reports state that the experience is very smooth, the NC can get a bit slow at times, showing its age. Amazon has a huge cloud presence and its putting it to work with the Fire, which lacks on storage options, Amazon envisions your music and videos stored in its cloud. The Fire also utilizes Amazon's cloud with its Silk browser which will offer an accelerated browsing experience.
Neither tablet has access to the official Android Market, but the Fire wins in this regard, because the Amazon app store simply has more apps than the Nook. On the other hand the Nook Color is one of the most 'hackable' devices out there, so if you get bored with B&N's customized experience you can quite easily run standard Android with the full Android Market. The Nook Color also wins on looks; the Fire is a standard all-black rounded affair.
For the full spec lowdown between the Fire and the NC head after the break. Be sure to also read our very extensive review of the Nook Color and how much we like its magazine app.

Kindle Fire
Nook Color
Processor
Dual-core 1GHz TI OMAP 4
Single-core 800MHz TI OMAP 3621
Memory
512MB
512MB
Built-in storage
8GB
8GB
Display and resolution
7-inches IPS panel
1024 x 600
169ppi
7-inches IPS panel
1024 x 600
169ppi
External storage
No card slot
Free cloud storage for Amazon content
microSD up to 32GB
Operating system
Android 2.3 based fully Amazon customized
Android 2.2 based fully B&N customized
App store
Amazon Appstore
Nook Apps
Pre-loaded apps
Amazon Silk accelerated internet browser, Email, music and video player
Tight integration with all Amazon services (Kindle books, Amazon Cloud player, Instant Video player)
Internet browser, Email, Pandora, music and video player
Tight integration with B&N book and magazine offerings
Audio
Top mounted stereo speakers
Back mono speaker
Support
Kindle (AZW), PDF, TXT, MOBI, DOC, DOCX
JPG, GIF, PNG, BMP
AAC, MP3, MIDI, OGG, WAV, MP4, VP8
EPUB, PDF, TXT, DOC, DOCX
JPG, GIF, PNG, BMP
MP3, MP4, AAC
Other features
no GPS, no camera, no Bluetooth
no GPS, no camera, no Bluetooth but can be enabled through hack
'Hackability'
To be confirmed
Extreme – can boot-up OS from microSD card.
Virtually impossible to brick.
Connector
micro-USB
micro-USB
Wireless connectivity
Wi-Fi 802.11 b/g/n
Wi-Fi 802.11 b/g/n
Max battery life
8 hours
8 hours
Dimensions
7.5 x 4.7 x 0.45
(190 x 120 x 11.4 mm)
8.1 x 5.0 x 0.48
(206 x 127 x 12.2 mm)
Weight
14.6 oz (413g)
15.8 oz (448g)
Body material
Plastic with rubberized back
Plastic with rubberized back
MSRP
$199
$249
Release date
15 November 2011
19 November 2010
© Stuff-Review
[
Amazon Kindle Fire
,
B&N Nook Colo
r]