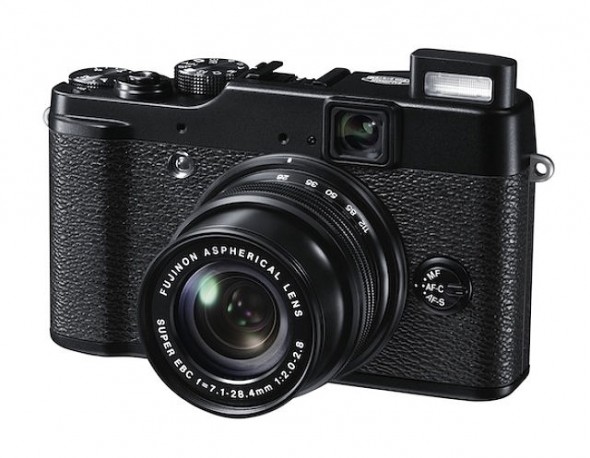 The X10, Fujifilm's new high-end point-and-shoot camera, was announced in September with a possible October or November release date and unknown pricing. Well, we now have some more concrete information for you. The X10 will be priced at $600 in the US, with an early November release date — both B&H and Adorama agree on the date and pricing. The price is quite steep if you consider that the Canon S95 and the Panasonic LX5 now retail for around $350-380. Nevertheless the X10 is quite unique as it features an optical viewfinder, 7 blade aperture system, a host of manual controls and shares the X100's retro looks and build quality (real world review of the X100 here).
The UK release date is more specific, with Amazon UK listing the X10 to ship on November 11th for £500.
If you are pondering on adding Fuji's new compact to you camera arsenal, check out this 16 minute video and our initial coverage of the Fujifilm X10.

As a reminder, the X10's key features are:
• 4x manual optical zoom featuring Fujifilm's new Intelligent Digital Zoom technology that doubles telephoto capabilities and provides up to 8x zoom
• Fast power start-up; the X10 is fully ready to shoot in approximately 0.8 seconds using the on/off power switch built into the lens ring (must be in Quick Start mode)
• High-contrast and wide viewing-angle 2.8″ 460K dot high contrast LCD screen that provides excellent viewing even outdoors and in bright sunlight
• Diverse manual shooting modes that can be selected according to scene type (Program / Aperture Priority / Shutter Speed Priority / Manual)
• Four diverse auto bracketing functions for exposure, ISO sensitivity, dynamic range and film simulation
• RAW shooting and in-camera RAW processing (SilkyPix RAW conversion software supplied in-box)
• Best-in-class 1080p Full HD movie recording capabilities
• Film Simulation Modes (eight setting are available, including Velvia / PROVIA / ASTIA)
• Manual pop-up flash with a range of 7 meters (approximately 23 feet)
• Electronic horizon leveling gauge to ensure that the camera is being held level, and histogram display to check image gradation
• Motion Panorama 360° for seamless 360-degree panoramic shooting
UPDATE: Fujifilm has disclosed the price and release date in the US in an official press release, confirming our info above:
FUJIFILM ANNOUNCES PRICING AND AVAILABILITY FOR THE NEW PREMIUM COMPACT FUJIFILM X10 DIGITAL CAMERA

Valhalla, N.Y., October 7, 2011 – FUJIFILM North America Corporation said today that the all new premium compact FUJIFILM X10 digital camera first announced on September 1, 2011, will have a retail price of $599.95 and will be available in early November.

Building on the tremendous success of the sophisticated FUJIFILM X100 digital camera, the new premium compact FUJIFILM X10 is the latest addition to the growing FUJIFILM X-series of advanced digital cameras.

The FUJIFILM X10 features a new larger 2/3″ 12 megapixel EXR CMOS sensor and a bright high-definition FUJINON1 F2.0 wide-angle to F2.8 telephoto 4x manual zoom lens (28-112mm)2 that produces superb image quality from edge to edge. The FUJIFILM X10 has a beautiful blackout and retro design that includes a traditional optical viewfinder with a wide 20° field of view for exceptional image composition. For more information, go to http://fujifilm-x.com/x10/en/.

The FUJIFILM X10 will be on display and available for all to see at the upcoming PhotoPlus Expo at the Jacob K. Javits Convention Center in New York City on October 27 through Saturday October 29.