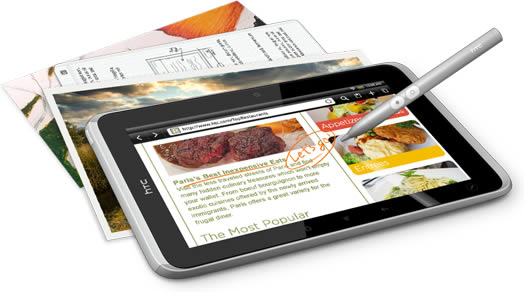 HTC's Flyer is quite a capable 7-inch Android tablet. It runs on a Qualcomm Snapdragon 1.5GHz processor, weighs 420 grams (14.82 oz) and comes with a digital pen for creativity on the go. The Flyer has recently been updated to Android Honeycomb, and together with today's price cuts, it has become quite a bargain.
The 16GB Wi-Fi only HTC Flyer now retails for £200 in the UK; you can grab one either from Amazon UK (make sure it's directly from Amazon) or Dixons. The 32GB 3G/Wi-Fi version is showing as £250 from Dixons, but we are having issues accessing the item's website, maybe it's a temporary problem.

We will file these price cuts as ripple effects from the recent launch of Amazon's own budget-centric and quite barebones Kindle Fire 7-inch tablet. The 16GB BlackBerry Playbook has also seen its price slashed to less than £200 recently.