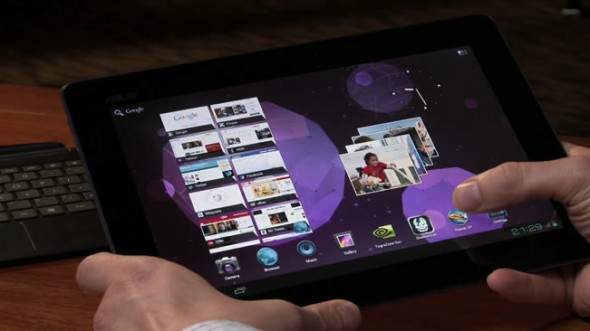 ASUS has taken to its official Facebook page to announce that its Nvidia Tegra 3 tablet will soon be updated to Android 4.0 Ice Cream Sandwich (ICS). The update will start rolling out on the 12th of January to the 10.1-inch quad-core ASUS Eee Pad Transformer Prime, making it the first Android tablet to officially receive Android ICS. We are sure this will put a smile on all the lucky Transformer Prime owners out there.
Nevertheless, there has been a backlash from the developer community, as Transformer Prime owners discovered that the tablet's bootloader is locked. ASUS explains that having a locked bootloader is a Google DRM (Digital Rights Management) requirement in order to allow users to rent videos. ASUS intends to provide an unlock utility. Use of the tool will void your warranty and make Google Video unavailable.

Transformer Prime owners have also been facing issues with GPS signal reception but unfortunately the news are not good on that front. ASUS explains that this is because of the device's metallic unibody design which affects GPS performance. It would seem that any software related solution won't do much to fix the issue and this has led ASUS to actually remove GPS functionally from the Transformer Prime's specification sheet.
The 64GB ASUS Transformer Prime retails for $599.
Here is ASUS' post in its entirety:
Thank you very much for all of the support you have given to ASUS. Eee Pad Transformer Prime received excellent reviews and great demand when it launched in December 2011. Now, we are continuing to make the Transformer Prime available in the worldwide market, and doing our best to fulfill the incredible demand. ASUS strives to create the best products and provide the best service for our customers, and will be releasing an FOTA update for the Transformer Prime shortly. This update, version 8.8.3.33, will improve the focus of the camera, the fluidity of the touch experience, and the APK capabilities in Android Market.

ASUS has been working hard to make the highly anticipated Android 4.0 Ice Cream Sandwich available on the Transformer Prime, and today, we have good news for you. Android 4.0 Ice Cream Sandwich FOTA worldwide update for the Transformer Prime will start from Jan 12th, 2012. Thank you for your patience and support through this process.

In addition, we would like to address your concerns related to GPS and bootloader on the Transformer Prime.

The ASUS Transformer Prime is made from a metallic unibody design, so the material may affect the performance of the GPS when receiving signals from satellites. Please note that this product is not a professional GPS device, and signal performance can be easily influenced by factors including, but not limited to: weather, buildings, and surrounding environments. Please understand there are limitations when using the GPS function. To avoid inconveniencing users who demand a powerful GPS device, we made the decision to remove it from our specification sheet and marketing communications. We apologize for any inconvenience this has caused.

Regarding the bootloader, the reason we chose to lock it is due to content providers' requirement for DRM client devices to be as secure as possible. ASUS supports Google DRM in order to provide users with a high quality video rental experience. Also, based on our experience, users who choose to root their devices risk breaking the system completely. However, we know there is demand in the modding community to have an unlocked bootloader. Therefore, ASUS is developing an unlock tool for that community. Please do note that if you choose to unlock your device, the ASUS warranty will be void, and Google video rental will also be unavailable because the device will be no longer protected by security mechanism.

Thank you for all the understanding and support for the ASUS Transformer Prime. Happy New Year!
[
ASUS on Facebook
]