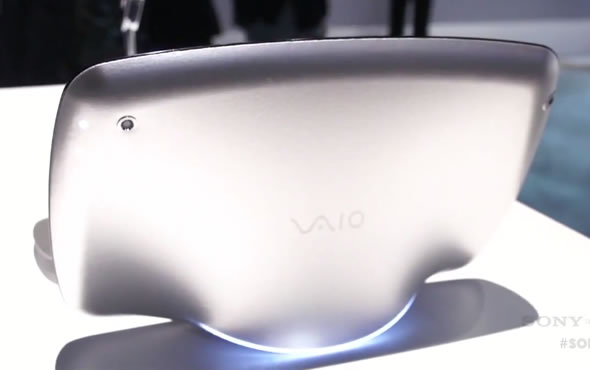 We really want consumer technology manufacturers to take big risks and to surprise us this year. After all it's in their best interest to do so, big successes come from thinking out of the box.
So, in this frame of mind, we'd like to share with you a couple of concepts, which we wish they would soon become actual products, that really peaked our interest.

Sony VAIO Slate & VAIO Hybrid design concepts
First off, the Sony VAIO computer team presented two concept designs. They both currently run Windows and both have very slick designs. The VAIO Slate design concept is a 10-inch touchscreen tablet with a morphing soft back material. When you want to rest it on a table, the back can be shaped into a stand, then you can use it with the matching rounded and lit keyboard.
The VAIO Hybrid design concept is a slate that has a built-in keyboard. You can use it as a tablet or you can pull out the keyboard from behind and use it as a full laptop, like the ASUS Eee Pad Slider SL101. We are not sure about the size of the screen for this one, but it looks to be in the 11-12-inch range. The Hybrid also comes with a stylus that rests at the bottom of the keyboard. Being Sony, the stylus comes in an array of different colors.
Samsung Smart Windows concept
Next up is Samsung's Smart Window. This is a transparent display, which allows you to see outside, though it's only one-way so you won't be sharing your Twitter feed with the entire neighborhood. It's fully touchscreen, of course, and response and sensitivity looks awesome. You can run a number of widgets and apps on the screen, like Twitter, weather, news, pull-up recipes and even office documents. During daytime it uses ambient light and you can even draw down some virtual blinds. At night-time it uses side lighting.
It's apparently going into production in the coming months and I'm already measuring up my kitchen window to make sure it fits.