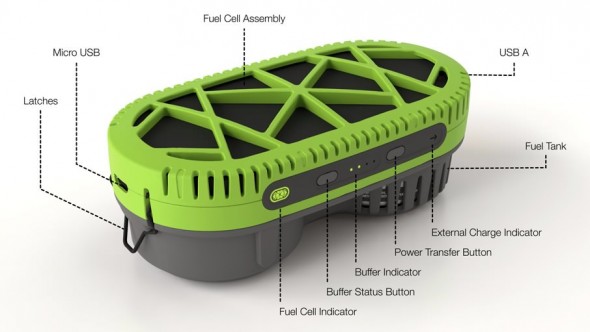 We've been hearing about fuel cells powering our gadgets for some time now, but the technology hasn't really caught on yet. Fuel cells convert chemical energy from a fuel to electricity though a chemical reaction. Hydrogen is the most common fuel used in fuel cells, though alcohols or natural gas are not unusual.
In portable devices, micro fuel cells would work together with integrated rechargeable batteries and promise continuous charge for your gadgets away from a mains socket, as long as you have fuel on hand. Apple has recently filed for two patents with the U.S. Patent and Trademark Office, titled 'Fuel Cell System to Power a Portable Computing Device' and 'Fuel Cell System Coupled to a Portable Computing Device'. These could potentially open the way for fuel cell powered MacBooks.

One of our wishes for 2012 is to be able to use our devices, non-stop, without having to be tethered to our chargers, and fuel cell technology might be one of the vehicles in achieving this goal. However the technology is still far from being commercially viable, since one would need fuel cell systems that are cost effective and sufficiently portable.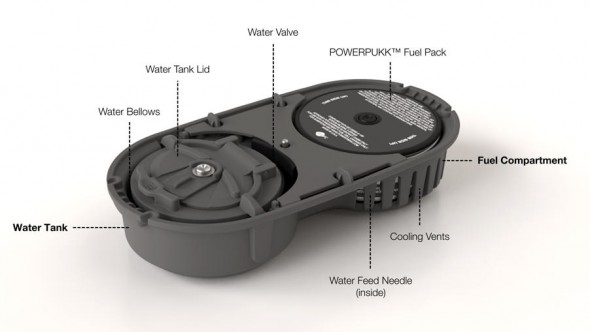 However there are a number of manufacturers that make portable fuel cells with which you can charge your gadgets on the go. One of these is the Swedish-made Powertrekk, which combines a disposable sodium silicide hydrogen gas fuel cell with a 1,600mAh lithium-ion battery. Powertrekk is expected to make an appearance at CES 2012 this January and should go on sale in Europe soon, with a U.S. release slatted in a few months. The Powertrekk's fuel cell can generate up to 1,000mAh. Here's how it works.
From what we can judge, the PowerTrekk caters better to situations whereby you would be away from any sort of electricity supply for a while, i.e. when camping or hiking, rather than any sort of a replacement to your power outlet. It's also quite bulky compared to standard portable external batteries. Nevertheless, we count it as the beginning of a surge in fuel cell related gadgets.