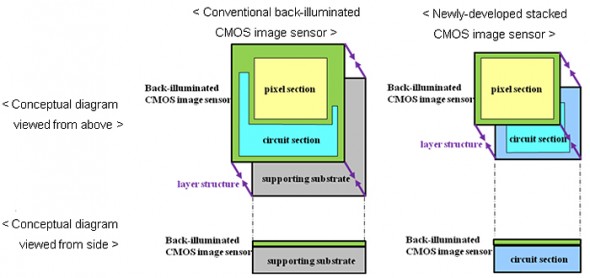 Sony was the first to introduce a consumer-grade (i.e. cheap) back-illuminated CMOS sensor in 2009 and the technology has found its way in a number of devices demanding good low-light camera performance within very tight space requirements, namely in smartphones. iPhone owners can thank this technology for their awesome low-light camera performance.
Sony continues to develop the technology and the company has announced today its new generation of backside-illuminated CMOS sensors, which the company is calling 'stacked CMOS image sensors'. Sony has created a new manufacturing process that allows it to move supporting circuitry to the back of the sensor, i.e. create a stacked structure. So what does this achieve? Well, Sony is claiming that the new sensor can achieve better image quality and lower power consumption in a smaller package. In addition Sony can build signal processing circuits on the back of the sensor, removing any requirement to have them externally.

Sony will be selling three different stacked CMOS image sensors. An 8-megapixel 1/4″ sensor will ship first in March 2012. The company will then follow-up in June and August with a 1/3.06″ 13-megapixel and 1/4″ 8-megapixel sensors that will be equipped with 'RGBW coding' and 'HDR movie' functions.
RGBW coding adds a White pixel into the standard Red-Green-Blue game, sort of what Sony has done in WhiteMagic displays but in reverse. The additional pixel increases sensor sensitivity without affecting image quality. To get a bit more technical, with a pixel size of just 1.12μm under 'RBGW Coding' you get the same signal-to-noise ratio as if you had a standard 1.4μm pixel. In effect you get even better low-light performance.
Last, but not least, the HDR movie function (which stands for High Dynamic Range) would let you capture videos without blown out highlights in very bright areas. Though we are sure the video below speaks for itself:
[
Sony
,
Sony 2
]