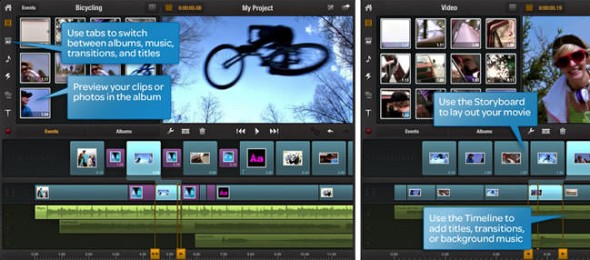 The iPad has already demonstrated that it does indeed have the chops for some serious content creation. While a touch interface may not be suited for some tasks, it's perfect for others, and video editing would be one of them. Avid, a name synonymous with prosumer video and audio production, has just released an iPad version of its Avid Studio application, which will now go head-to-head against Apple's own iMovie.

Avid Studio for the iPad is the company's first iOS video related app. The application allows you to edit video, audio and photos, use the touch interface to arrange your clips and apply transition effects and a soundtrack. You can then share the products of your labors on YouTube, Facebook or with your PC where you can continue editing.
Big-screen moviemaking comes to the touchscreen with Avid Studio for iPad. We've distilled the world's leading film-editing technology into an easy-to-use app that enables you to edit video, audio, and photos at the speed of your creativity.

Swiftly arrange your clips in the Storyboard, make precision edits using the Timeline, and add high-quality transitions, effects, and a soundtrack. Then share your movie directly to YouTube, Facebook, and more—or export your project to Avid Studio for the PC and continue editing with even more advanced tools.
The app can now be had on the App Store for a $4.99 introductory price, which will go up to $8 in a month. Avid Studio beats iMovie on the iPad in terms of features, but similarly you would need at least an iPad 2 for things to run smoothly. The original iPad simply doesn't have the raw processing power for such arduous tasks. We bet though that this would simply fly on the iPad 3.
[
Avid Studio
on the App Store]