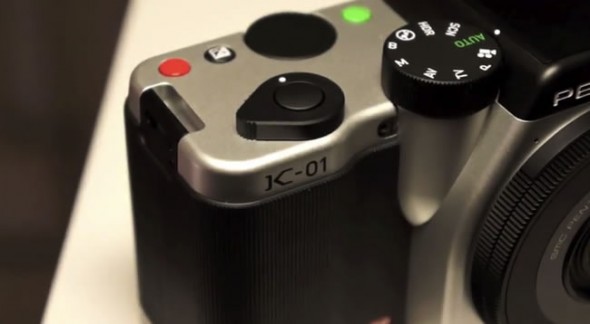 The Pentax K-01 mirrorless camera surely has a unique design, it's small but thick, as a brick. There's a reason for that though, as it can accept the huge number of K-mount lenses, designers had to maintain the format's 45.46 mm flange back distance (the distance from the lens mount to the sensor). To compare, Micro Four Thirds has a 20mm flange back, Sony's E-mount 18mm and Fujifilm's new X-mount just 17.7mm.
Love it or hate it, it's got some pretty tasty internals, including the same excellent 16.28-megapixel APS-C sensor as the Pentax K-5, of course compatibility with excellent Pentax APS-C SLR glass, 1080p video capabilities and even an HDR mode directly selectable on the mode dial — you can find a full list of specs and pictures in our initial coverage here.

So if you can see behind its chubby lines, you might actually fall in love with what this camera can do. To help you decide, here's a couple of hands-on videos of the Pentax K-01 in action.
First a lengthy and as always great hands-on from The Camera Store's Chris Niccolls. So it's the Volvo of cameras huh?
Finally a quick hands-on from the launch event in London.