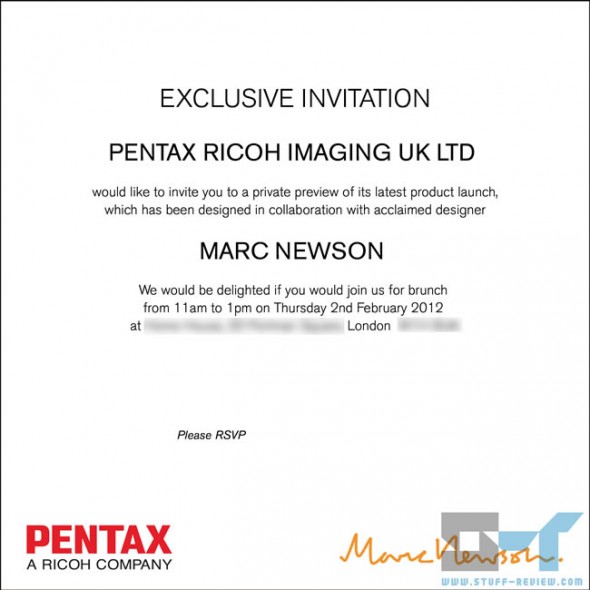 We'll file this into ironic. We were day-dreaming during the weekend over the old Asahi Pentax, and today we received the above invitation for a new product launch event by Pentax in London on February 2nd. The new camera has been designed in collaboration with Sydney-born industrial designer Marc Newson, famous for combining smooth organic lines and bright vivid colors into his products.
The timing matches previous rumors for a new K-mount camera announcement from Pentax, just in time for the CP+ camera show in Yokohama. All rumors point to a new mirrorless interchangeable lens camera (MILC) to be named Pentax K-01. Again quoting previous rumors, the K-01 will have the same 16-megapixel sensor as the K-5, it will support K-mount lenses but will come with its own new DA 40mm f2.8 lens that is less than 1cm thick.

Here is a rundown of all the rumored specs for the K-01 so far:
Mirrorless camera, though unknown whether it will have an integrated EVF
Same 16-megapixel sensor as the excellent K-5
Full HD video with external mic input support
3-inch LCD 921k pixels
Contrast AF
K-mount and will work with most existing Pentax lenses
Three new lenses – DA 40mm f2.8 kit lens which is just 1cm thick
Built-in pop-up flash
Dimensions: 121mm x 79mm x 59mm
Weight: 560g (1.2lb) with battery
Will come in three different colors
Below is a compilation of a number of claimed render leaks and drawings of the new camera, but we would take these with a grain of salt.