February 28, 2012 at 3:35 pm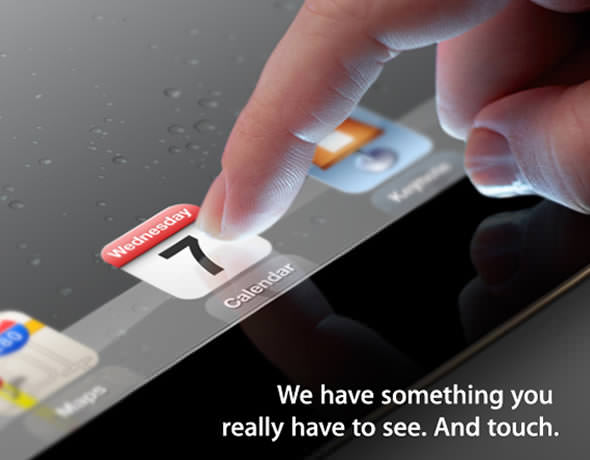 You had been warned to hold off any iPad purchases until further notice. So finally we have confirmation on the official announcement for Apple's next generation tablet, the iPad 3. Apple has been sending out invites for an event at Yerba Buena Center for the Arts in San Francisco on Wednesday 7th of March at 10am PST (1pm EST or 6pm GMT).
The invite shows a finger touching, a pretty sharp, iPad screen. The tagline reads We have something you really have to see. And touch. It's been widely rumored that the iPad 3 will feature an extremely high resolution "retina" display effectively quadrupling the iPad 2's effective pixels. The iPad 3 resolution is said to be 2048×1536 against the iPad 2's 1024×768, which would really be a sight.
Now we're pretty interested in the last part of the tagline. We already know touch, so could Apple be eluding to something new in the iPad 3, like let's say, advanced haptic feedback. continue reading