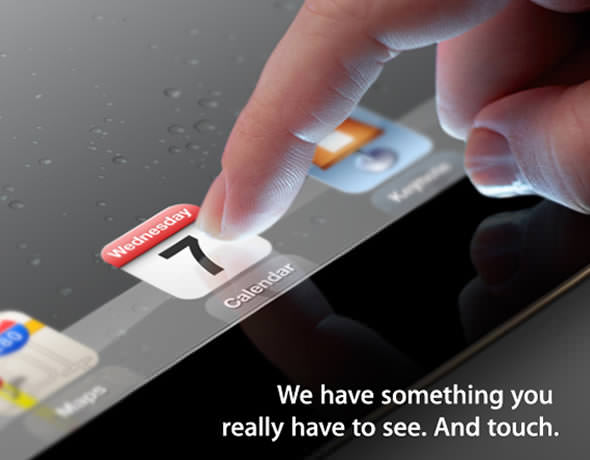 You had been warned to hold off any iPad purchases until further notice. So finally we have confirmation on the official announcement for Apple's next generation tablet, the iPad 3. Apple has been sending out invites for an event at Yerba Buena Center for the Arts in San Francisco on Wednesday 7th of March at 10am PST (1pm EST or 6pm GMT).
The invite shows a finger touching, a pretty sharp, iPad screen. The tagline reads We have something you really have to see. And touch. It's been widely rumored that the iPad 3 will feature an extremely high resolution "retina" display effectively quadrupling the iPad 2's effective pixels. The iPad 3 resolution is said to be 2048×1536 against the iPad 2's 1024×768, which would really be a sight.
Now we're pretty interested in the last part of the tagline. We already know touch, so could Apple be eluding to something new in the iPad 3, like let's say, advanced haptic feedback. We already know that Apple has been doing its own research on giving users better haptic feedback on touchscreens to improve tactile experience. Tactile feedback improves typing experience on a touchscreen by emulating the feeling of typing on a keyboard and giving the user physical confirmation, it also provides a much more immersive gaming experience.
We've also seen the Vivitouch that can be mounted behind a touchscreen and offer better tactile feedback while typing or gaming without cost on thinness or battery life. Obviously most of this is wishful thinking on our part, but we can certainly hope. Oh, you might also notice that the iPad in the picture above has lost its center physical home button.
Besides a better screen, we expect the iPad 3 to have a faster processor and, obviously, better graphics unit, if it's going to be able to push all those pixels. We also expect the iPhone 4S's improved camera to find its way into the new tablet. As usual, you'll find all of our coverage on the iPad 3 in the timeline below.