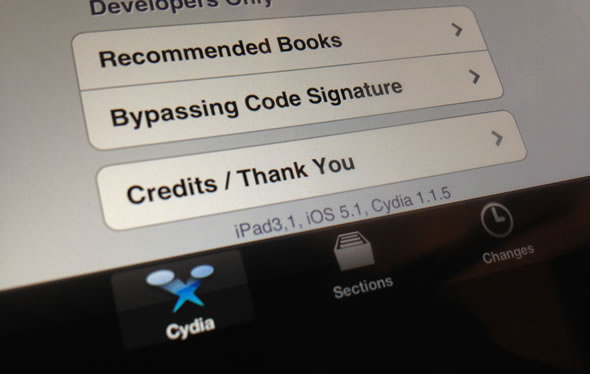 You know how it goes, Apple releases new iOS hardware and the chase to jailbreak the device begins. With the third-generation iPad running iOS 5.1 barely out, developers are showing off their skills having been able to to jailbreak the tablet within a few hours.
What's amazing is that so far there have been three different developers/teams showing off jailbreaks that they claim have been done using different methods. There's no public release of a jailbreak just yet, but you should expect one to be out before too long.

First you have iPhone hacker MuscleNerd of iPhone Dev team, who tweeted the screenshots you see below of the jailbreak and Cydia running on the new iPad. MuscleNerd was quick to point out that this is, just a first step, still lots of work to do! No ETA!.
Then, developer Stefan Esser (a.k.a. i0n1c) together with the Chronic Dev Team, demoed in the YouTube video below, an untethered jailbroken iPad 3 (a.k.a. new iPad) with iOS 5.1, liberated from the App Store's shackles and running Cydia:
Finally Grant Paul (a.k.a. chpwn) tweeted of a third method used to jailbreak the new iPad and iOS 5.1 that was developed together with phoenixdev.
It's good to have choices, even for jailbreaks!